'Wayward Pines' Episode 3 Recap: "Our Town, Our Law"
A family moves in, another resident leaves.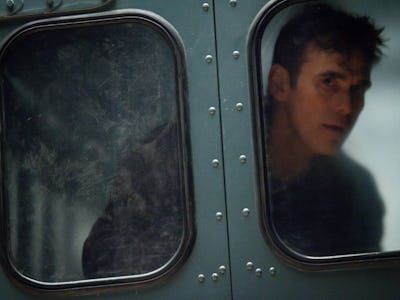 "Enjoy your life in Wayward Pines."
The Burkes have moved in.
Picking up immediately after last week's public execution of poor Beverly, Sheriff Pope shows off more of his cult-ish leadership over the town. Those memorized chants he led — which seemed more like rules with lines like "Don't discuss your life before" — reinforce Wayward Pines as a false world. Everyone knows it, and some have willingly gone along with it. But who hasn't?
And if it's a false world, who is it false for?
The biggest development in this week's Wayward Pines is the reuniting of the Burkes. They're a family once again! After finding their way into Wayward Pines and being discharged from the hospital — which appears to be a mandatory visit for all newcomers — Ethan is now with Theresa and Ben. Now Burke can prove to the doctors and the town that he isn't crazy, that he isn't a nuisance, and his family will know that he isn't cheating with "that other woman." Now, they can unravel the mystery that is Wayward Pines. Progress!
Or they don't do any of that, and instead attempt yet another escape. 
Hasn't Burke realized yet that the only way to rip off the town's mask is to play the game? Even we as the audience know enough about Wayward Pines to make educated guesses, but no one — not us the TV viewers, not the Burkes, not even Kate Hewson (perhaps?) knows what lies underneath. Sheriff Pope does, which he revealed in his last scene.
Yes, his last scene. Perhaps because Terrence Howard is needed elsewhere on Fox's Empire, but Sheriff Pope is no more. And killed by Burke, no less, in the outskirts of town.
That's not to say this episode wasn't empty of Pope, though: It was Pope who sabotaged Theresa and Ben's car as they approached the town with a silly-but-somehow-it-worked ruse straight out of Unsolved Mysteries, and Pope creeped on Theresa in her (now new) home. Pope's villainous side was never accented with any sexual deviancy, so him hitting on Theresa in the same way creeps do at clubs was off-putting and cliche. And just what was it about ice cream Pope had an eternal craving for?
There's enough evidence to believe that Pope wasn't actually all that bad. Upon a second viewing, knowing what Pope knows "what lies behind door number three," perhaps he was a true guardian of Wayward Pines and was just an asshole in how he dealt with people. In the climax, Pope is chasing after an escaping Theresa and Ben and gets clocked by Ethan. They're just a few feet away from the town's high-tech fences. A deep growl from an unearthly beast is heard, but never seen. It looked like Jurassic Park without the dinosaurs. Pope says the truth is "worse than anything you could imagine." Revisit some of Pope's lines and he becomes a far more complex character than previously thought
What is the truth? Of course that has always been the big question, but now Pines has us asking point blank.
Elsewhere, Beverly's time distortion wasn't unique. In a platonic rendezvous (that Ben followed and mistook for his father's infidelity), Kate reveals to Ben that she's been in Wayward Pines for twelve years despite only being in Seattle with Ethan five weeks ago. The show is reminding us of questions we still haven't had answers to, and it's beginning to get irritating.
How much longer will Ethan play renegade and fight against the town? Kate himself said the only way to come out alive in Wayward Pines is to game it. After the murder of Sheriff Pope, that can't be an option for any of the Burkes anymore, can it? Not sure if this is the right path Wayward Pines should be going, and if they don't start answering some questions soon then it might be time to hit the road and leave Wayward Pines behind.