This iPhone 8 Case Leak is the Best Look at the Bezel-Free Screen
Evan Blass has released a new image of the upcoming device.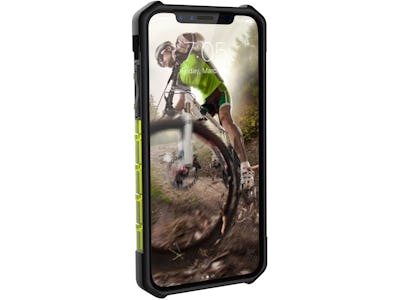 Evan Blass/Twitter
The iPhone 8's launch is drawing closer. On Tuesday, prolific smartphone leaker Evan Blass released a new image of Apple's upcoming device, rumored to feature a 5.8-inch OLED screen in a phone the size of the 4.7-inch iPhone 7.
What's notable about this leak is how it reveals the device's aesthetics in a real-world situation. With the device rumored to cost north of $1,000, making it by far the most expensive iPhone ever produced, consumers are going to want to protect their purchase. Chances are, many will opt to include a new iPhone 8 case with their order alongside the device itself, to avoid any mishaps that spell an early end to their new purchase.
The display stretches to the edges of the device and provides a cutout for the cameras and speaker near the top of the phone. The switch from LCD to OLED technology allows for a non-square shape, but screen manufacturer Samsung is expected to suffer from a low yield rate due to the increased complexity of the display. ETNews reported last week that only 60 percent of manufactured screens will make the cut, meaning the company is expected to produce 79 million usable panels over the course of a year.
Interesting to note about the above mockup, which comes courtesy of a third-party casemaker, is the user interface is taken from iOS 10. The next version, iOS 11, is almost certain to ship as standard on the next device. For the past nine years Apple has followed a pattern of announcing a new major version number for its mobile operating system, then shipping it on the new iPhone launched that year. In the above image, the signal strength indicator uses the current "dots" design, where beta versions of iOS 11 use a smaller "bars" design that would allow the phone to more efficiently use the screen space in the top left corner.
As the device's rumored fall launch approaches, the leaks are kicking into overdrive. An unexpected source of information has been Apple itself, which leaked a number of key details by releasing its HomePod smart speaker firmware to developers. The $349 Siri-powered speaker runs a variant of the iOS operating system, and developers discovered references to a number of iPhone 8 features like a front-facing face scanner to replace the fingerprint sensor. Beyond the phone, Apple's software release also contained reference to a 4K Apple TV and an Apple Watch with LTE connectivity.
The device is expected to launch alongside the iPhone 7S and 7S Plus. All three devices are expected to support wireless charging, although this may require an updated version of iOS. Hopefully all will become clearer when the devices are unveiled later this year.