Here's Everything Elon Musk Has Ever Said About Donald Trump
Musk was reluctant to comment, but it said plenty.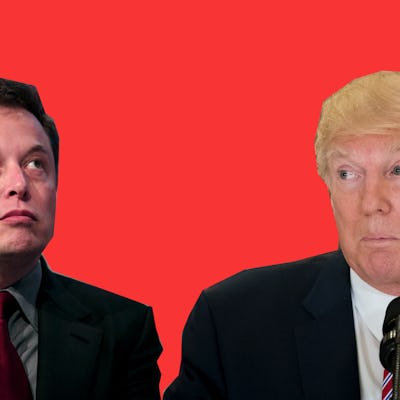 Getty Images
President Donald Trump publicly announced this week he would "end" two councils of top business leaders — though actually the business leaders decided for him — marking the end of a months-long fiasco that saw CEOs make their exits in the wake of each new Trump-made scandal.
Kicked off on Monday by the resignations of Merck CEO Keith Frazier and Intel CEO Brian Krzanich, the end of the American Manufacturing Council and the Strategy and Policy Forum came in response to the president's widely derided response to the the white power rally in Charlottesville, Virginia.
These were not the first titans of industry to publicly break with the president. The very first, ironically enough, was the embattled, now former Uber CEO Travis Kalanick, who departed the Strategy and Policy Forum in February.
But SpaceX and Tesla founder Elon Musk was the next high-profile name to leave, and the first person to resign on principle from the American Manufacturing Council, tweeting the news on June 2. Looking over Musk's history of cautiously chosen comments about the president reveals just how tricky it is for business leaders to remain apolitical in the age of Trump. There was once a time when business leaders could advise presidents without being seen as endorsing their views; the Obama administration and its predecessors had councils similar to Trump's. Musk's months of constantly defending himself on social media against criticism that he was working for Trump signaled a greater sea change: We have entered an age where business leaders who advise politicians are seen as endorsing all their policies, whether they want to or not. That goes double for a politician as high-profile and controversial as Donald Trump. Using every available public statement Musk made about Trump both before and during his time on the councils, here's the definitive account of one CEO's increasingly desperate attempt to make the best of a situation he very clearly never wanted anything to do with.
Perhaps Musk's earliest public statements on Trump came in October 2015, four months after the latter kicked off his campaign and still a couple months before the primaries began. Asked about Trump's chances as part of a larger public forum on the future of tech, a visibly uncomfortable Musk picked his words carefully.
"I don't really have strong feelings except that hopefully Trump doesn't get the nomination of the Republican party, because I think that's, yeah… that wouldn't be good," Musk said. "I think at most he would get the Republican nomination, but I think that would still be a bit embarrassing." He also offered tepid affirmation to fellow panelist and Y Combinator president Sam Altman's assertion it wouldn't be surprising if Trump got the nomination.
Asked about his political involvement by panel host Andrew Ross Sorkin, Musk laid out his largely neutral approach. "I get involved in politics as little as possible," he said, explaining politics mattered to him solely in terms of government contracts. "There's some amount I have to get involved in, mostly because SpaceX has to battle Boeing and Lockheed for national security and civil space launch contracts. If we don't battle them, then we'll lose."
Musk's next big brush with electoral politics came in March 2016, after the first Super Tuesday firmly established Trump's position as the Republican frontrunner. The SpaceX chief attended a meeting with other business leaders at the American Enterprise Institute. Musk took to Twitter to respond to rumors this summit was part of a secret effort by CEOs to somehow end Trump's campaign.
When asked the obvious follow-up question, Musk was unequivocal:
Also in early March, Musk publicly denied an inaccurate report that SpaceX was a top Trump campaign contributor. According to the Federal Elections Commission, Musk did not donate to any campaigns during 2016 itself, though he did donate $5,000 to the Hillary Clinton campaign in May 2015, before Trump had entered the race. Musk's contributions to presidential campaigns have historically come in the year prior to the election or still during the primary. Apart from giving money to George W. Bush in 2003, Musk has only donated to Democrats in presidential campaigns; in the 2004 election he donated to John Kerry. Musk is more bipartisan in his non-presidential contributions, though the Marco Rubio campaign refunded Musk his contribution when the Florida politician — SpaceX launches rockets from Cape Canaveral — shifted his senate reelection run to a presidential campaign.
Musk made his most biting reference to Trump in early October while responding to a Vice report that he didn't follow any women on Twitter. Arguing against the story's importance, Musk took the most thinly veiled jab imaginable at Trump. "Maybe there's a dude who really digs the color gold who is slightly more deserving" of being the target of such criticism, Musk commented.
Musk's point would gain credence two days later with the release of a 2005 Access Hollywood recording in which Trump bragged about sexually assaulting women. While Musk did not comment on the tape directly, he did tweet out the link to a satirical recap of the second debate between Trump and Clinton, which made jokes at both candidates' expense but focused heavily on Trump's discussion of sexual assault.
On November 4, just days before election day, Musk was asked about the two candidates during an appearance on CNBC's fascinatingly named Squawk Alley. Musk again sounded uncertain throughout, offering an endorsement of Clinton and a condemnation of Trump that somehow reads as both unequivocal and guarded.
"Obviously I think Hillary's economic policies, her environmental policies in particular, are the right ones, but, yeah," he said. "Also I don't think this is the finest moment in our democracy in general." When pressed on his thoughts on Trump, Musk added, "I feel a bit stronger that probably he's not the right guy. He just doesn't seem, he doesn't seem to have the sort of character that reflects well on the United States. I don't know… no."
The day after the election, Musk again made no direct comment, but he did retweet this link from journalist Glenn Greenwald to a report Trump had picked climate skeptic Myron Ebell to lead the transition at the Environmental Protection Agency.
On November 22, Musk retweeted this report on conservative pundit Laura Ingraham — who had in the days prior suggested she was in the running be Trump's press secretary — and her political attacks on Musk and his companies. The report Musk retweeted referred to her as a "Trump propagandist," a relatively provocative descriptor.
Musk accepted his positions on Trump's two presidential councils in December 2016, but his next public comment on the administration wouldn't come until after the inauguration, when he offered an unexpected endorsement to Rex Tillerson, Trump's pick for Secretary of State.
Musk elided any mention of Trump in explaining his reasoning, but his follow-up tweets and a series of direct messages with Gizmodo reporter Bryan Menegus revealed Tillerson's success as the head of Exxon and his broad acceptance of climate science were the main reasons for his enthusiasm.
Musk's final direct message exchange with Gizmodo addressed whether Tillerson's presence would mean much, given Trump's avowed climate denial.
And you feel confident such a policy [as a carbon tax] would be put in place under the Trump administration, even though he's repeatedly referred to global warming as a "hoax"?
You are missing the point. This is something we need to strive for and the more voices of reason that the President hears, the better. Simply attacking him will achieve nothing. Are you aware of a single case where Trump bowed to protests or media attacks? Better that there are open channels of communication.
Whatever cautious optimism Musk was prepared to voice evaporated days later when the White House released its first version of the travel ban on refugees and people from seven Muslim-majority countries. Musk voiced his disapproval of the travel ban on January 29, albeit using somewhat guarded language instead of outright condemnation.
On January 30, Musk identified what he saw as his common ground with Trump.
That rationale, that it was preferable for more progressive voices to have the president's ear whenever possible, was also Musk's main argument after he faced heavy criticism in early February for visiting the White House with the rest of the advisory council to meet with Trump.
Musk identified the travel ban and climate denial as two issues of particular importance, saying he had taken active steps to bring both topics to the president's attention.
In subsequent replies, Musk argued he was trying to do the right thing by working with Trump, though he reaffirmed his preference to stay outside politics.
On February 5, he praised the American judicial system after judges blocked the travel ban from going into effect. He also voiced frustration with the continued calls to stop working with Trump.
In separate replies, Musk reaffirmed his belief he was still in a position to do good, pushing back against the idea that his willingness to work with the president helped normalize Trump's far-right politics.
At a TED Talk in late April to discuss his various projects, Musk briefly fielded a question from the moderator about his role in the Trump administration. "Well, I think that first of all, I'm just on two advisory councils where the format consists of going around the room and asking people's opinion on things, and so there's like a meeting every month or two," he said. "That's the sum total of my contribution. But I think to the degree that there are people in the room who are arguing in favor of doing something about climate change, or social issues, I've used the meetings I've had thus far to argue in favor of immigration and in favor of climate change." This was met with applause from the audience.
He also restated his belief that he was bringing to Trump's attention perspectives on issues that might otherwise go ignored. "And if I hadn't done that, that wasn't on the agenda before," he said. "So maybe nothing will happen, but at least the words were said."
It would be another few weeks before Musk would quit entirely.
But Trump's exit from the Paris Climate Agreement would prove the last straw for Musk. The run-up to the president's decision on June 1 saw continued optimism from the Tesla head that Trump would listen to reason.
A few days later, Musk seemed to hint that his time was up, commenting, "I've done all I can."
And then the next day, after Trump's declared America would go back on its word regarding the Paris Climate Agreement, Musk quit:
Since then, Musk has stayed out of politics and avoided talking about Trump. His Twitter feed has returned to promoting SpaceX, Tesla, and the Boring Company, while his public appearances have focused on more future-looking concerns like the dangers of artificial intelligence. After a year of occasionally tricky questions about Trump's candidacy and a few months of trying to work with the president, Musk has gone back to his old, studiously apolitical, tech-obsessed self.
For those wondering, Inverse couldn't find any evidence that Donald Trump has ever commented publicly on Musk, which is frankly astonishing given the president's apparent need to comment on every conceivable topic. The only time Musk's name appears in Trump's entire timeline is a solitary tweet from 2013, and that's just a manual retweet of an admirer comparing the two men.