Mets Pitcher Noah Syndergaard Cameos in 'Game of Thrones' Battle
The flamethrower was no match for the dragon.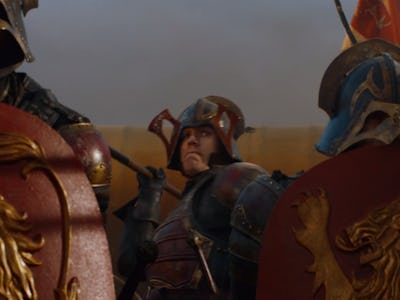 In an iconic pop culture crossover event, the superhero Thor made a cameo in Sunday's episode of Game of Thrones.
Don't get too excited Marvel fans, it's not that Thor we're talking about. It's baseball fans that should be pumped, as Noah Syndergaard, the New York Mets' All-Star pitcher, made a highly anticipated (if ever-so-brief) appearance in the fourth episode of the HBO drama's seventh season. For those not acquainted with the fun-loving 24-year-old righty, he's known as Thor due to his Nordic heritage, long blond hair, and imposing six-foot, six-inch frame.
In Sunday's episode, Syndergaard played a soldier in the Lannister army. He's known for throwing flames, with a fastball that tops out at over 100 mph, and quite appropriately, he tossed a spear through the heart of a Dothraki soldier.
But as he noted in a tweet after the episode, even his flames were no match for Daenerys' dragons.
Syndergaard traveled to Spain this winter to film the cameo, which he has been teasing since last off-season. In an interview with Sports Illustrated in March, he called Game of Thrones the greatest TV show of all time.
Syndergaard said in his SI interview that he wanted to take a few swords from the set, but that ideas was nixed. In any case, he has been out since late April with a torn lat muscle, so this was the best throw he's made all year.