The Obvious Reason the Military Just Banned the Most Popular Drone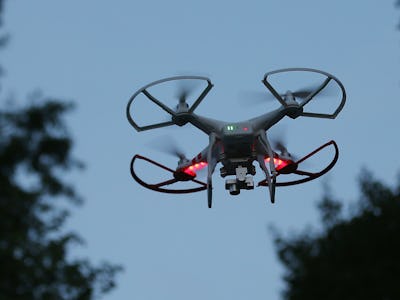 Getty Images / Bruce Bennett
The U.S. Army will stop all use of DJI drones and related products, citing "cyber vulnerabilities."
An official memo, dated August 2, cites a U.S. Army Research Lab report and a U.S. Navy memorandum that likely have make the case that DJI products and technology could pose a risk to the military.
According to the memo, the U.S. Army has sanctioned the use of DJI drones over 300 times for various missions and applications. Army personnel are asked to "cease all use, uninstall all DJI applications, remove all batteries/storage media and secure equipment for follow-on direction."
Drones have become commonplace in conflict zones, as weapons (to drop bombs, for example) and as surveillance apparatuses. DJI drones have even been used by ISIS in Iraq and Syria.
What may account for the U.S. military's sudden balking at the use of DJI drones is their ability to gather sensitive data, or a slew of other reasons, really. The drones are all capable of recording, storing and transmitting the geographic location of their flights, as well as audio and video. It could be that gaining access to the information stored on military DJI drones is not too hard to accomplish, or perhaps it's become possible to remotely change who commandeers them.
DJI is a massive player in the commercial drone industry. Their products accounted for 70 percent of the global commercial and consumer drone market in 2016, according to an estimate from Goldman Sachs and Oppenheimer. Since they are so widely used in the military and commercially, it could be that detecting DJI drones has just become too easy in areas where the U.S. military is concerned with keeping a low profile.
In a statement to sUAS News on the matter, Michael Perry, DJI's Public Relations Manager, said:
We are surprised and disappointed to read reports of the U.S. Army's unprompted restriction on DJI drones as we were not consulted during their decision. We are happy to work directly with any organization, including the U.S. Army, that has concerns about our management of cyber issues.
We'll be reaching out to the U.S. Army to confirm the memo and to understand what is specifically meant by 'cyber vulnerabilities'.