ISIS Video Shows "Suicide Drones" Piloted With a PS2 Controller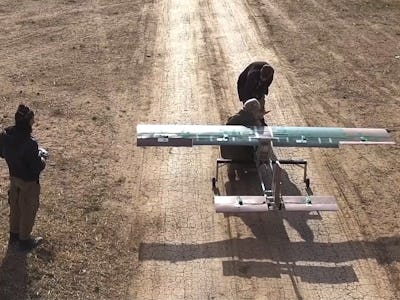 Screenshot
On Wednesday, the Islamic State released a new propaganda video showing off a number of weapons, including several remote-controlled unmanned vehicles capable of delivering explosives to a target. While ISIS has been using store-bought and homemade quadcopters to drop explosives for months, the video shows a fixed-wing, remote-controlled aerial drone larger than any other the group has previously used, and a number of other radio-controlled weapons.
ISIS published a link to the 44-minute video on a private Telegram channel, the encrypted messaging app popular with the group. The video contains footage of several car or truck bomb attacks, known as VBIEDs, as well as segments showing off the group's homemade weaponry, including anti-tank launchers, unmanned ground drones, and the larger fixed wing drone. According to analysts, most of the footage comes from around Mosul, Iraq, where ISIS is currently engaged in a months-long battle with coalition forces.
Aldin Abazović, an analyst and researcher focusing on conflict in the Balkans and Middle East, said it was the first time he had seen ISIS testing an aerial VBIED (which stands for vehicle-borne improvised explosive device) of that size. Other analysts reported that it was the largest drone produced in the Islamic State so far.
The drone appears to be a simply-constructed single-propellor drone, with a small engine located in the center of a wooden fuselage next to, assumedly, the explosive payload. The ISIS video shows a feed from the drone's camera as it approaches a group of vehicles, before cutting out.
Abazović told Inverse in a Twitter conversation that he's seen other radio controlled drones captured by security forces, but "never like this."
The video also shows footage of an unmanned ground vehicle, or UGV, that can carry what appears to be an anti-tank mine or other heavy explosive payload.
The UGV is rigged up to be controlled via radio with a knockoff Playstation 2 controller.
Analysts note that the UGV and possibly the aerial drone are often controlled in tandem with another drone, usually a quadcopter of some sort.
The VBIED attacks shown in the video are usually filmed in high-definition from above, and video feeds from the spotter drones can help guide human suicide bombers and unmanned vehicles to their targets as well.
Alongside the mobile vehicles, the latest video also showed that ISIS has a remote-controlled heavy machine gun.
Remote controlled vehicles and weapons have been used on both sides of the battlefield. The Iraqi Army has a remote-controlled fighting vehicle, but the brunt of the conflict is still fought in close quarters by human soldiers.
Inverse was provided a link to the video by an analyst, but will not publish it in full, as it contains extremely graphic content and extremist propaganda.