Drone Giant DJI Unveils Program to Keep Quadcopters Out of Prison
DJI's new geofencing system puts the kibosh on drones going where they shouldn't.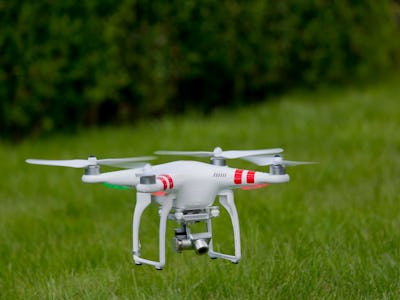 Flickr.com/B Ystebo
DJI, maker of the incredibly popular Phantom drones, wants to cut down on incidents that cast quadcopters and other hobby drones in the worst light — delivering heroin into penitentiaries, crashing into stadiums, flying too close to airports. A new system announced Tuesday, to be rolled out in December, adds to DJI's current no-fly geofences around airports and D.C.: Operators will, in theory, have real-time data of forest fires, stadium events, and other situations where drones are verboten.
The system — GEO, or Geospatial Environment Online — uses data provided by airspace mapping company AirMap; 3DR, another drone maker and will also use the AirMap data.
Drones will default to ground where the AirMap indicates flying is unsafe. Outside of completely restricted locations like Washington, D.C. and airports, the system is hardly totalitarian. In a press release, DJI called strict geofencing the wrong approach. Users will first have to create an account linked to a phone number or credit card, and can use that account to unlock grounded drones. "GEO ultimately opens up more locations for drone operators to fly in," Adam Najberg, DJI's communications director, told Inverse.
The goal, to hear DJI tell it, is accountability and flexibility. There could be a plausible reason to fly near an airport or fire — perhaps you're inside — that a binary no/yes location-based flight system wouldn't be able to handle. Linking credit cards or cell phones means the unlocks are traceable should an over-riden (over-rided?) UAV be involved in any sort of mishap. A lack of internet connectivity will also keep drones out of unlockable skies.
"You'll default to the updated static airspace data in the app," says Najberg. "And that means you won't be able to fly into or take off in no fly zones."
GEO — or the next system like it — won't have the stopping power needed to keep every drone, particularly custom-built ones, from flying where they shouldn't; that will take more active countermeasures. But, for the recreational operator who isn't aware he or she is about to make an ill-advised flight decision, this system could mean less embarrassment and less face time with people in uniforms.