Uber Can't Find a Female CEO, So the Top Contenders are 3 Men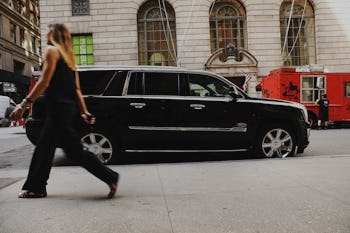 Getty Images / Spencer Platt
Uber has been looking for a new CEO since Travis Kalanick resigned back in June, following accounts of rampant sexism within the company and an overall toxic workplace. As Uber tries to change its image and build a new and improved brand, a natural move is to include women in executive roles within the company. There's just one problem: apparently none of them want the gig.
The company's reputation for toxic masculinity within the workplace has apparently proven serious enough to dissuade top-ranking female CEOs who have been courted about the position. People familiar with the search, speaking to The Washington Post Friday on the condition of anonymity, revealed that there are no women on Uber's CEO shortlist — although it isn't exactly for lack of trying. A lot of female CEOs were approached about the job, including Youtube's Susan Wojcicki, General Motors' Mary Barra, EasyJet's former CEO Carolyn McCall, and Facebook's chief operating officer, Sheryl Sandberg. None of them, however, were interested in taking on the much-maligned car service.
Meg Whitman, Hewlett Packard Enterprise's chief executive actually went so far as to put her "no thank you" on Twitter for everyone to see:
Uber's toxic work culture came under fire in February, following engineer Susan Fowler's blog post about her time at the company. In the post, she details sexual harassment, discrimination, and a very apathetic HR department.
Following this, a company-wide probe into harassment allegations, led by Perkins Coie LLP, covered 215 human resources claims. The probe resulted in over 20 people being fired, while 31 people received counseling or training.
Also in early February, Kalanick was filmed having an argument with a driver over falling fares. The CEO snapped at driver Fawzi Kamel, an incident recorded on Kamel's dashcam. In a statement after the incident, Kalanick said: "To say that I am ashamed is an extreme understatement." Kalanick stepped down from his CEO position in late June, citing that amidst Uber's turmoil, it was recommended by investors that he take a back seat.
In a move to improve the company, Uber hired Harvard Business School's Frances Frei as SVP of leadership and strategy in June. Speaking on Recode's podcast Recode Decode on July 26, Frei said that Uber's company culture can easily be saved, and that it's just a matter of implementing better management strategies.
"I read the newspapers and I thought there was no chance they were going to be the good guys. No chance. And then every single person I spoke with, I then started looking for, 'Where is the toxicity?' and I found a lot of people looking for the secret memo on how to behave. If you gave them the secret memo, they behaved that way.
>"Everyone who has a problem with the organization, chances are it was an interaction with their manager. I came in expecting to see 3,000 bad people managing. 100 percent not the truth. Management is a skill that can be taught, and they were not taught it.
Uber will reportedly make a decision on their new CEO before Labor Day. Despite Frei's efforts to shake things up in management, the CEO shortlist has come up, well, short. Those close to the search could only reveal one name to The Post; Jeffrey R. Immelt, a 61-year-old white man and outgoing chairman at GE.
With additional reporting from Mike Brown.