Here's the Sexist Thing an Uber Board Member Said Before Resigning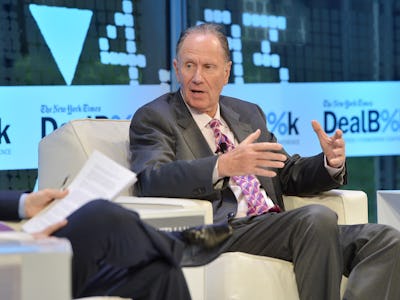 Getty Images / Larry Busacca
Uber's board of directors held an important meeting on Tuesday to discuss the recommendations of a report on the company's toxic workplace culture. Much of the report's advice addressed a history of sexist behavior at Uber, but that didn't stop board member David Bonderman — a founder of the TPG Capital investment group — from making a stupid, sexist comment during the meeting.
Board member Arianna Huffington had been announcing the appointment of a second woman, Ling Martello, to the leadership, saying, "There is a lot of data that shows that when there is one woman on the board, it's much more likely that there will be a second woman on the board."
Bonderman interrupted to say, "I'll tell you what it shows, is that there's much more likely to be more talking on the board."
The New York Times reports that attendees of the meeting were "aghast" at the comment. Huffington was none to pleased, either, responding: "Ohh, come on, David."
Mere hours after audio of the exchange was obtained and shared by Yahoo Finance, Bonderman sent an email to all employees stating that he had decided to resign:
"The comment came across in a way that was the opposite of what I intended, but I understand the destructive effect it had, and I take full responsibility for that. […] I do not want my comments to create distraction as Uber works to build a culture of which we can be proud. I need to hold myself to the same standards that we're asking Uber to adopt. Therefore, I have decided to resign from Uber's board of directors, effective tomorrow morning."
The resignation comes the same day that Uber's CEO Travis Kalanick announced that he will take an indefinite leave of absence from the company.
Bonderman definitely made the best choice for Uber, which needs to show that it can take the drastic steps necessary to change its culture right now.
Huffington said in a statement, "I appreciate David doing the right thing for Uber at this time of critical cultural changes at the company."