How the Arrowverse Changed Because of Trump's Election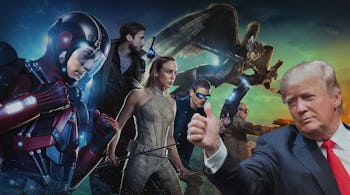 Getty/Warner Bros. Television
A new hero is joining DC's Legends of Tomorrow when the show returns for its third season this fall on the CW. Her name is Zari Adrianna Tomaz, a Muslim-American hacker from the future played by Tala Ashe (American Odyssey) who went by the name Isis in the comics (expect that to change). At the Television Critics Association press tour on Wednesday, producer Marc Guggenheim said that introducing a Muslim superhero on the series was without a doubt influenced by the current political climate.
"You might have heard there was this election," joked Guggenheim at the TCA tour this past Wednesday in Beverly Hills. "Not to get political, but something that we all gravitated towards in the writer's room was making this character Muslim."
In the comics, Isis was inspired by the 1975 TV show The Secrets of Isis, which starred Joanna Cameron as a high school science teacher who could transform into an Egyptian warrior. Guggenheim said they altered the character into a Muslim hacker when Guggenheim's sister-in-law, a Muslim-American, told him how difficult it was to be Muslim throughout the last election cycle in which then-candidate Donald Trump vilified Muslims, including proposing an immigration ban from predominantly Muslim countries.
"She was talking about how difficult it is to be Muslim-American in the current political climate," said Guggenheim. "Having a character who's a computer hacker and is from the future but also happens to be Muslim, it's a nice, important aspect of her character."
Ashe herself is eager to play the role, citing a need for representation in popular media. "When I was growing up watching television, I didn't see anyone who looked like me," Ashe told the press. "When I think of the kid version of myself, I think it broadens your perspective. What I think is so lovely about this show is that the Legends are this tapestry that represent America today."
At the TCA tour, Guggenheim explained his own theory why superheroes are more popular than ever during the Trump administration. "I think the reason why the audience and the creatives are gravitating toward superheroes is because it's wish-fulfillment," said Guggenheim. "They're looking to find a little bit of hope and a little bit of escapism that quite frankly doesn't exist."
On the Season 2 finale of Legends of Tomorrow, "Doomworld," the evil alliance known as the Legion of Doom gained possession of the Spear of Destiny and reshaped the world to fit their wishes. Gone were heroes like Green Arrow and The Flash, and they controlled a very Trump-like U.S. president. Seems that won't be the last bit of Trump influence we feel going into Season 3.
DC's Legends of Tomorrow will return to the CW on October 10.