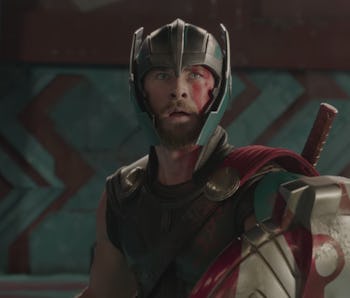 Entertainment
The Best Line in 'Thor: Ragnarok' Came From a Make-a-Wish Kid
YouTube.com/Marvel Entertainment
There are still months left until Thor: Ragnarok hits theaters this November, but already the film is fan-favorite thanks to its best line. In the teaser trailer, when a hammer-less Thor (Chris Hemsworth) is forced to fight in a galactic gladiator arena against his Avengers colleague, the Hulk (Mark Ruffalo), the God of Thunder shouts out with excitement: "We know each other! He's a friend from work!"
But as it turns out, the line's origin story is actually adorable: It was made up on the spot from a Make-a-Wish visitor.
In an interview with Entertainment Weekly during San Diego Comic-Con, Hemsworth revealed that the line came from him talking to a Make-A-Wish child, who had the brilliant line in his head. "We had a young kid, a Make-A-Wish kid on set that day … and in between the takes I was talking with him, and he goes, 'You know, you should say, "He's a friend from work!"'"
It's only fitting that one of the best lines, perhaps thus far in the entire Marvel Cinematic Universe — with t-shirts already available to buy — came from the boundless creativity of a child.
Elsewhere in the interview, director Taika Waititi joked that "95 percent" of the movie was improv. So that's where all that humor came from.
Thor: Ragnarok will hit theaters on November 3.