Domino's Creator Defends Changes in 'Deadpool 2'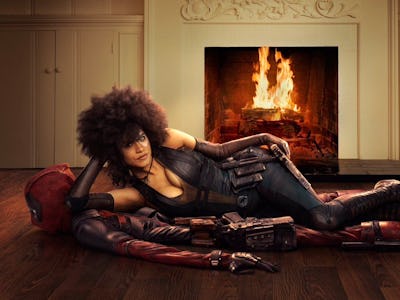 Twitter.com/VancityReynolds
Deadpool's world is about to topple over. On Monday, Ryan Reynolds took to Twitter to reveal everyone's first look at Zazie Beetz (Atlanta) in full costume and makeup as the mutant assassin Domino for Deadpool 2. True to virtually every casting choice in comic book movies, there was a kerfuffle over Beetz's casting, and the new photo hasn't quelled haters, who cite changes like her afro hairstyle and the color of her eye makeup (in the comics, Domino's left eye is black). Some fans aren't pleased, but that's of no concern to Rob Liefeld.
Just a few hours after Reynolds initially shared the photo, Liefeld, who created the character in The New Mutants back in 1991 with Fabian Nicieza, quoted the tweet with enthusiasm, saying, "SHE LOOKS AWESOME!! Signed, Domino creator!"
In the comic book world, the word of the creator is law, but some fans still tried to object. One fan tweeted back, saying, "I love that domino is going to be on the big screen. But this is not what you created. I'm hoping it works out. I love all you created."
That's when Liefeld tweeted back, and he was blunt: "Oh, because she's not albino? Uh, no. That's Domino buddy."
While it's obvious that it's good business for Liefeld to support the movie, it's nice to know that Domino's own creator is a fan of the changes no matter how insignificant they really are. Comic book purists may always want accuracy forever and always, but where's the fun in sticking to stuff created years ago? So long as the actors pull it off and the movie is a blast, just like the first Deadpool, fans can just chill out and enjoy.
Meanwhile, Beetz herself shared a new photo on Instagram, and it's obvious she's having the time of her life as the mutant mercenary. Beetz accompanied the photo with the caption, "DomiYAASSS #Domino."
Deadpool 2 will hit theaters on June 1, 2018.