The Mooch's Day of Public Humiliation Refuses to End
Anthony Scaramucci was fired this week by White House chief of staff John F. Kelly, just before a Harvard publication listed him as deceased.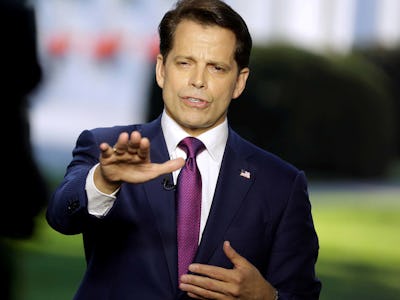 The Daily Beast
Sometimes, when a man with a punchable face enters the public eye, fate responds by absolutely destroying his life on a national stage.
Just after being appointed by President Donald Trump as White House communications director, Anthony Scaramucci delivered a shocking interview to The New Yorker, accusing his coworkers of trying to suck their own dicks and threatening to kill anyone leaking information out of the white house to the press. Believe it or not, the New Yorker interview was only the beginning of this man's misery.
On July 28, Scaramucci's wife filed for divorce, and sources said her husband's new involvement with Donald Trump may have inched the proceedings along. The divorce announcement, coupled with the disastrous New Yorker piece, kept the Mooch, as Scaramucci calls himself, firmly in the center of the internet's great and terrible meme machine for days.
News then broke that the Mooch hadn't even attended the birth of his third child, and that he had simply texted his wife while with Donald Trump, "Congratulations, I'll pray for our child." Brian Feldman at New York magazine hilariously points out that any time a user types "congratulations" into an iPhone, an automatic confetti explosion occurs, which means Deidre Scaramucci likely received a strange blast of color with her husband's insulting text.
On Monday, the White House announced that Scaramucci had been fired only ten days into his new position. Shortly afterward, The Washington Post reported that the regular Harvard Law alumni directory, which hit alum mailboxes on the same day the Mooch got canned, erroneously listed him as deceased.
It seems that in the eyes of the public, and according to Harvard, the Mooch was so tremendously and terrifically owned today that he might as well be dead.