HBO Hacked, 'Game of Thrones' Episodes May Have Been Stolen
The hackers stole a whopping 1.5 terabytes of data.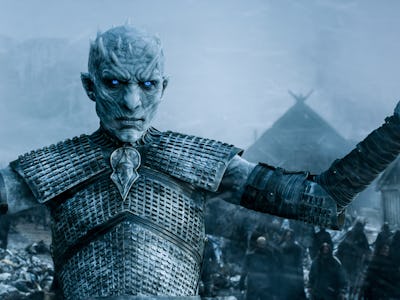 HBO
Today, HBO announced that it has been hacked.
The hackers made off with 1.5 terabytes of data, which is quite a bounty: One terabyte of data can hold approximately 40 days worth of video. The pilfered data includes at least two episodes, one each from the shows Ballers and Room 104. The hackers also stole a future script, whose contents are not yet clear.
It remains unknown, however, if the hackers were able to infiltrate Game of Thrones and its Seven Kingdoms. HBO released the following statement:
"HBO recently experienced a cyber incident, which resulted in the compromise of proprietary information. We immediately began investigating the incident and are working with law enforcement and outside cybersecurity firms. Data protection is a top priority at HBO, and we take seriously our responsibility to protect the data we hold."
Entertainment Weekly reports that following the cyber attack, the hackers contacted several reporters and offered the following, cryptic message:
"Hi to all mankind. The greatest leak of cyber space era is happening. What's its name? Oh I forget to tell. Its HBO and Game of Thrones……!!!!!! You are lucky to be the first pioneers to witness and download the leak. Enjoy it & spread the words. Whoever spreads well, we will have an interview with him. HBO is falling."
Although the message suggests that the hackers may have acquired future episodes or scripts from Game of Thrones, it could well be a ruse. For now, HBO seems hell-bent on ensuring that the Thrones' realm is secure and protected from future cyberattacks. In a company email obtained by Entertainment Weekly, HBO CEO Richard Plepler offered company employees the following assurance:
I can assure you that senior leadership and our extraordinary technology team, along with outside experts, are working round the clock to protect our collective interests.
If episodes from the world's most popular show were indeed stolen, it will inarguably be one of the "greatest" hacks in showbiz. But it's already encouraging HBO to further fortify their data, to keep future malice well beyond the wall.