This iOS 11 AR Video is the Best Version of 'Take On Me' Ever
Augmented reality just had it's "a-ha" moment.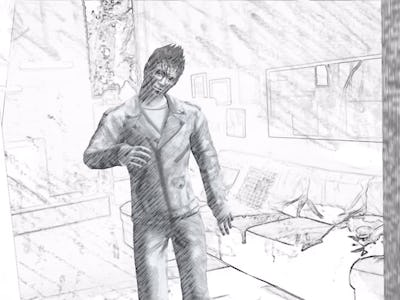 Trixi Studios/YouTube
When Apple unveiled iOS 11 at last month's Worldwide Developers Conference, it probably didn't expect this. Mobile development team Trixi Studios has been experimenting with a beta version of the upcoming iPhone software update and produced a reworked version of A-Ha's "Take On Me." The app uses ARKit, the new augmented reality tools available to developers in iOS 11, to produce an interactive version of the famous sketch world from the original music video.
"When ARKit came along, we were very excited by the idea that just 'normal' phones could do such great AR, so it seemed like the perfect situation to stress test what ARKit could do." TRIXI founder Chip Sineni told The Verge.
In the video, the user moves around a home as people interact with virtual figures. The app uses the device's camera feed and alters the image to recreate the dream world. Users can move in and out of the sketch, just like the protagonist from the original video.
It's an impressive feat, and one that shows how augmented reality can enable new creative experiences. Developers have produced a number of functional ARKit apps, like a tape measure, a restaurant ordering app that lets users preview food, and an educational app that lets children explore the planets. But the "Take On Me" project shows how artists could use augmented reality in their own projects.
The iPhone 8, expected to launch later this year, could take these experiences to a whole new level. Rumors suggest that Apple plans to incorporate a 3D laser scanner into the device, which would provide apps with accurate information about how far away objects are. Currently, ARKit has to guess depth information based on a flat camera feed, meaning the iPhone 8 could support augmented reality apps with far greater accuracy than current implementations.
Watch the video below: