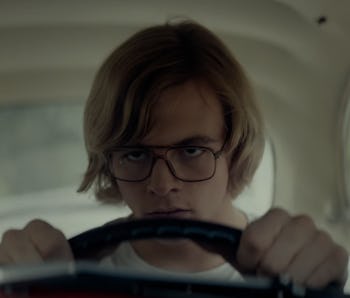 Entertainment
That Horribly Disturbing Young Jeffrey Dahmer Movie Has a Trailer
'My Friend Dahmer' tells the story of young serial killer Jeffrey Dahmer.
FilmRise
After a standout premiere at 2017's Tribeca Film Festival, Marc Meyers's My Friend Dahmer, based on the graphic novel of the same name by Derf Backderf, finally has an appropriately chilling trailer.
My Friend Dahmer tells the partly fictionalized story of serial killer Jeffrey Dahmer's (Ross Lynch) teenage years. Backderf (Alex Wolff), who attended high school with Dahmer and folded the troubled teen into his small group of friends, later wrote about his experiences. The film adaptation dives a bit deeper than Backderf's work, though, with Meyers extrapolating on Dahmer's home life — his parent's divorce, his mother's struggle with addiction, Dahmer's shame regarding his own sexuality, and his fascination with death and violence.
Dahmer's class clown antics morph into much darker themes, including alcoholism and violent sexual fantasies. Backderf and his friends watch as Dahmer slowly unravels, stalking his doctor as a potential victim and, eventually, meeting his now-famed first victim, hitchhiker Steven Mark Hicks.
Dahmer, who was convicted of killing 16 men and boys in the midwestern U.S. between 1978 and 1991, was serving out 16 life sentences before being beaten to death by a fellow inmate. He died on November 28, 1994, but America's fascination with his crimes, obviously, still lives on.
Check out: "My Friend Dahmer Director Talks Humanizing Without Glorifying" for more about the film.
My Friend Dahmer is expected to premiere in theaters sometime this fall.