Trump Blocks Chrissy Teigen, Accidentally Reminds Us He's Being Sued
by Monica Hunter-Hart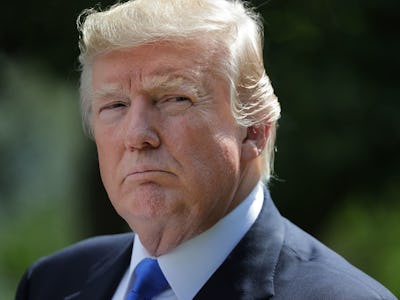 Getty Images / Chip Somodevilla
On Tuesday, model Chrissy Teigen announced that President Donald Trump had blocked her on Twitter after she tweeted at him, "no one likes you." Unfortunately for the president, that insult hasn't been the most damaging part of the incident.
Teigen is perhaps the most high-profile person to have been blocked by the president since the Knight First Amendment Institute sued him on July 11 for blocking users; her celebrity caused the news that Trump blocked her to go viral, and as major news outlets have been reporting on the event, they've also been bringing the ongoing lawsuit to the public's attention.
"It's very sad that Republicans, even some that were carried over the line on my back, do very little to protect their President," President Trump tweeted on July 23.
"Lolllllll no one likes you," Teigen replied. President Trump promptly blocked her, as he has done to many others who troll or insult him or his policies.
"After 9 years of hating Donald J Trump, telling him 'lol no one likes you' was the straw," Teigen tweeted.
But that's not the half of it. On July 11, the Knight First Amendment Institute filed a lawsuit against three members of the Trump administration (the president himself; Daniel Scavino Jr., the White House Director of Social Media; and then-press secretary Sean Spicer) on behalf of seven individual plaintiffs from across the country, claiming that citizens of the United States have a constitutional right to be able to access President Trump's Twitter feed.
Their case rests on two main arguments: First, that citizens must be able to view President Trump's tweets because they are official government statements. "Defendants have promoted the President's Twitter account as a key channel for official communication," states the complaint. "The President's advisors have stated that tweets from @realDonaldTrump are 'official statements,' and they have been treated as such by politicians, world leaders, the National Archive and Records Administration, and federal courts."
Second, that his feed is a "public forum" for expression — even though Twitter itself is a private company — because "Defendants have made the account accessible to all, taking advantage of Twitter's interactive platform to directly engage the President's 33 million followers," states the complaint. This argument may or may not hold up in court, but a federal judge has previously ruled that a local government's Facebook page is a "limited public forum."
The First Amendment deems it unconstitutional to bar citizens from public forums just for communicating dissenting opinions. The lawsuit calls President Trump's decision to block users "viewpoint-based exclusion"; plaintiffs complain that the president is preventing them from expressing political dissent.
President Trump's decision to block Teigen may add weight to the lawsuit's existing arguments against him, but it seems unlikely to provide new evidence of unconstitutional behavior. Inverse checked in with the Knight First Amendment Institute to ask about any potential impact it might have on the case.
"Based on the blocking of celebrities, journalists and other Twitter users over the past several days, it appears that the president and his aides have not reconsidered their practice of blocking critics on Twitter," senior staff attorney Katie Fallow tells Inverse, "even after being notified by our lawsuit that this practice violates the Constitution."
The debacle with Teigen may not explicitly affect the ongoing case, but it does demonstrate that President Trump doesn't seem to mind that he's being sued or might be acting unconstitutionally.
For now, Teigen's fame is bringing more attention to the lawsuit, and that's significant: President Trump seems to have been convicted in the court of public opinion.
The lawsuit is still in its beginning stages. The Knight First Amendment Institute has "yet to hear from the White House regarding how they are going to respond," Fallow tells Inverse. "They must respond within 60 days from the time of service so we expect a response will be forthcoming."