How an Upset Atlanta Woman Can Trace Her Herpes Trail to Usher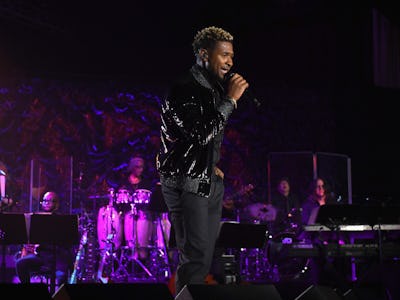 Getty Images / Larry Busacca
A woman is suing R&B singer Usher, whose full name is Usher Raymond IV, for $20 million because she claims that he gave her herpes. The Atlanta woman, named in court filings only as Jane Doe, says that she and Raymond first got it on in April. They used a condom then, but 12 days later, when they hooked up in a New Orleans hotel room, they didn't. Now, she has herpes and wants Usher to pay.
The seamy details of the scenario are captivating, but the complications she'll inevitably run into while trying to prove he had herpes and didn't tell her are much less sexy. While there are ways to figure it out, Dr. Jen Gunter, an obstetrics and gynecology specialist and noted evidence-based medicine advocate, tells Inverse, they're not easy, and they won't be 100 percent accurate.
"I do not believe it is possible to track with commercially available tests," Gunter says. "There are ways to sequence a virus or bacteria to see if someone has the identical strain, but just because you have an identical strain doesn't mean it came from that person."
Genital herpes infections can cause both physical and mental strife in a relationship, especially when the assumption that both are STI-free is overturned by a sudden infection. The natural question, as Terri Warren, RN, explained on WebMD, is: Has my partner been cheating on me?
The commercially available tests that Gunter mentioned typically test the blood for traces of antibodies against the HSV antigen (a sign that the immune system has indeed been exposed to the virus) and can involve a lesion swab test to check that the virus is present on open wounds. But the most they can tell you is whether you are infected, and roughly when you got infected. They can't tell you who gave you the virus.
As Gunter explained, it's possible to sequence the DNA of the virus in order to see whether the sequence matches the "source" sequence. Of course, making this comparison would require getting a sample of Usher's strain of herpes, which may prove difficult.
It may prove difficult for Jane Doe to use a lab test to confirm whether Raymond gave her herpes, but she and her legal team aren't out of options.
The circumstances surrounding her rendezvous with the singer strengthen her case: In court documents obtained by Radar Online, Raymond and his doctor reportedly told a plaintiff in a 2012 civil suit — which was also about herpes exposure — that he was diagnosed in 2009 or 2010. He settled that case by paying $1.1 million to the plaintiff, a stylist. Jane Doe heard about this case, according to TMZ, which is apparently how she found out that she may have been put at risk.
She initially filed her lawsuit for $10 million on the grounds that he'd exposed her to herpes simplex 2 (HSV 2) — otherwise known as genital herpes — but after reportedly testing positive this week, she has upped the number to $20 million. She claims that she found out about his diagnosis after their encounters — a fact he'd revealed in documents pertaining to another woman's civil suit against him.
This evidence, though circumstantial, could bolster Jane Doe's case against the singer. After all, it would be very hard to prove that she didn't have the virus before she slept with him.
"Herpes is so common, the person would have to prove they were HSV negative before as well," says Gunter. HSV doesn't always cause immediate symptoms, and people sometimes carry the virus for years without knowing it; as the World Health Organization puts it, "Most infected people are unaware that they have the infection." It's possible that Jane Doe was infected pre-tryst and simply didn't realize.
The case should play itself out soon, but it certainly gives new meaning to Usher's seemingly prophetic 2001 hit, "U Got it Bad."