Microsoft's 'Plan is Set' for Xbox One X Pre-Orders
The November launch is almost here.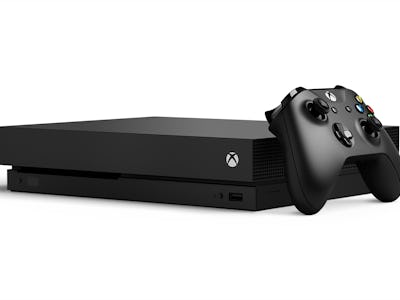 Microsoft
Microsoft's next console took one step closer to becoming reality on Monday, as head of the Xbox division Phil Spencer revealed the company's "plan is set for Xbox One X pre-orders. The newest addition to the family promises games at 4K resolution on compatible screens at a smooth 60 frames per second.
"Anyone word on when the Xbox One X pre-orders will be released?" Twitter user Mooy said to Spencer on Twitter. "I want to make sure I get one. I can't wait."
"Our plan is set for this," Spencer replied. "All approvals are done so now just landing the announce with all the info, won't be too much longer."
The console is set to launch on November 7, priced at $499. It's a high price considering the Xbox One S, which plays the same Xbox One games as its more expensive sibling, is available now for around half the price. Microsoft is pitching the One X as a high performance console for those that want the latest 4K graphics.
On the high end, Microsoft faces competition from Sony's PlayStation 4 Pro, priced at $399. Similar to the One X, the Pro promises to play the same games as the PS4 first released in 2013, but supported titles will display at 4K resolution with updated graphics.
Where the PS4 Pro may rely on techniques like checkerboard rendering to achieve this resolution, Microsoft is promising full 4K gaming on the One X. The Pro may be priced $100 less than the One X, but offers graphics performance of just 4.2 teraflops compared to the Xbox's six teraflops. For the extra money, gamers receive a more powerful console.
Whether games are convinced by the difference remains to be seen. Wedbush Securities analyst Michael Pachter said earlier this month that, owing to its steep price tag and an absence of 4K televisions in the marketplace, the One X "will not do well."
However, developers' reaction to the console has so far been positive. Sean Walsh, marketing and public relations manager for VooFoo Studios, said in an interview last week that the One X is "substantially more powerful" than the Pro, and that Microsoft has taken several steps to ensure developing for the console is as pain-free as possible. If that leads to better experiences, it could give the One X the edge.