Why the Internet Thinks Kid Rock Will Run for Senate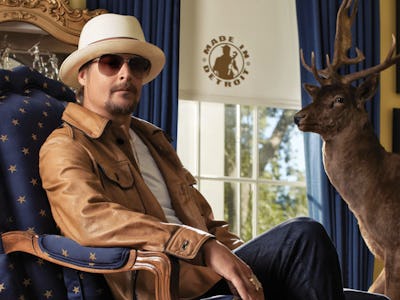 kidrockforsenate.com
The possibility of Kid Rock running for a Senate seat in 2018 has been making the rounds for a couple of weeks now, after the man who penned the phrase, "Bawitdaba, da bang, da dang diggy diggy," took to Twitter to confirm he was actually serious about becoming an elected American Bad Ass.
If you click the link attached to Mr. Rock's (born Robert Ritchie) July 12 Twitter post, it takes you to a politician-y looking website that features "Kid Rock for US Senate" merch and the tagline, "Are you scared?"
Frankly, yes we are, because according to some insiders, if Kid Rock actually decides to run, he might have a decent chance of winning his Michigan seat. A story on Politico warning of Kid Rock's palatability as a Republican candidate ran on Sunday, and "Senator Kid Rock" started trending on Twitter soon after.
"Presuming Kid Rock doesn't get caught in bed with a little boy, or beat up a woman between now and August 2018, he's going to win the nomination if he gets in," Dennis Lennox, a Republican political consultant in Michigan, told Politico.
There's some truth to this. Kid Rock is definitively Detroit, and is viewed as something of a hometown hero who remained in Michigan following fame. He even has his own locally brewed beer: Badass American Lager. The guy is not short on brand recognition, and in politics these days, that's nothing to scoff at. Add to that Kid Rock's appeal as an anti-establishment, anti-elitist alternative to traditional politics, and you have the ear of a lot of conservative, disenfranchised American voters.
So how might he fare if he actually does run? Debbie Stabenow, the Democratic incumbent, has won her last two elections and is a deeply popular candidate in Michigan. The Republican party could be looking to Kid Rock to change the game in the state, much like Donald Trump managed to in the presidential election last year. And since we've all seen now what happens when you do that, the question might be, are they sure they want to?