Captain Marvel Battles the Skrulls in Newly Released Concept Art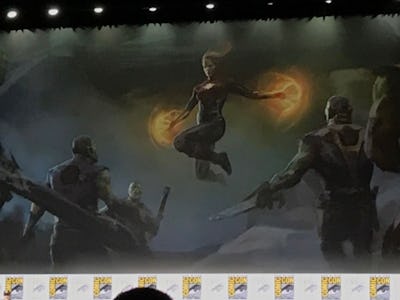 Twitter
Comic-Con attendees got the first glimpse of Captain Marvel on Saturday, when concept art for the eponymous film's central character was unveiled during the Marvel Studios panel.
Judging from social media posts that captured the art in question, Captain Marvel (aka Carol Danvers) will be staying pretty true to the character: full suited, blonde and bad ass.
Marvel Studios president Kevin Feige also revealed that Captain Marvel will be set in the early '90s, before the Avengers band together. It will also feature Nick Fury (played again by Samuel L. Jackson), without the eyepatch!
Brie Larson is slated to play Captain Marvel herself, and the film will be the first Marvel feature with a female lead. After the overwhelming success of Wonder Woman, Marvel can't make this movie happen fast enough.
Feige also revealed that Captain Marvel will be facing off against the Skrulls, an alien race of shape-shifting bad guys with a prolific presence in Marvel comics. Based on Saturday's concept art, it looks like they'll be green and kind of orc-like.
Captain Marvel is slated for release March 8, 2019.