Dan Stevens Wants Patrick Stewart to Play Professor X on 'Legion'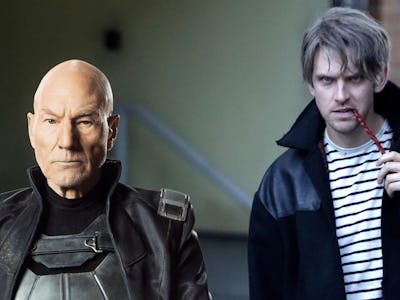 'Legion'
Patrick Stewart may have paid a fond farewell to his character Professor Charles Xavier with Logan, but if Dan Stevens has any say in the matter, Stewart will assume the role of Professor X one last time for FX's Legion.
In a July 20 interview with Entertainment Tonight during San Diego Comic-Con, Stevens renewed his insistence that Stewart should play Charles Xavier on Legion. In Marvel comics, Professor X is the biological father of David Haller, aka Legion, which is something well-known by fans of the comics and the show alike. It's easy to associate Stewart with a role he's played in seven X-Men films.
Stevens fondly remembered his conversation with his fellow actor, calling Stewart his dream casting for the role: "Oh god, Patrick Stewart takes a lot of beating, and he did seem interested. He seemed very unaware of the show." Stevens explained, "I mentioned that he was my dad, and he seemed pleasantly surprised."
Stevens is likely referring to an exchange he had with Stewart on James Corden's The Late Late Show in March, which unfolds exactly as Stevens described:
David's parentage wasn't necessary to the plot of Legion, which instead focused more on David's mental illness and an ongoing struggle with his overwhelming powers and a psychic parasite attached to his mind.
Still, a common question from fans throughout Legion's first season was whether or not the show would address David's lineage in some way.
Sure enough, when the image of Professor Charles Xavier's famous wheelchair was briefly shown during "Chapter 7," it became certain that Legion was following comics canon and making the link between the two characters.
Showrunner Noah Hawley also explained to ET that David's father is definitely something they want Legion to address in Season 2:
"I think we want to address that. It's normal when you learn you're adopted to want to know who your real family is. He doesn't yet know the identity, so I think it will be a process to get there."
Season 2 might have a bit more to do with Professor X, but who knows if Patrick Stewart will be involved in any capacity. The cast and crew of Legion can only dream of it, and so can we.
Legion Season 2 has a projected release date of February 2018, but official dates have yet to be confirmed.