Statesman Are Painfully American in 'Kingsman' Red Band Trailer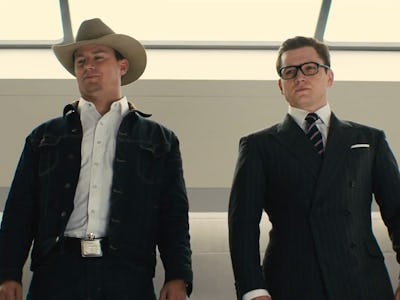 20th Century Fox
The sequel to Matthew Vaughn's Kingsman: The Secret Service has been teasing the Statesman, the Kingsman's American cousins, for a while. In the new red band trailer for Kingsman: The Golden Circle, fans finally get a better look into the lasso-twirling, gun-slinging, whiskey-drinking world of the Stateman.
When Julianne Moore's Poppy, a megalomaniacal criminal of unknown intent, kills off a huge swath of the Kingsman and destroys their tailor shops, Eggsy Unwin (Taron Egerton), Merlin (Mark Strong), and Harry Hart (Colin Firth) travel stateside to seek out the Statesman: Channing Tatum's Agent Tequila, Pedro Pascal's Agent Whiskey, and Jeff Bridges's Agent Champagne.
What results is an expectedly violent romp across the world and through the United States. Agent Whiskey beats up bad guys with a lasso and twirls silver revolvers, Agent Tequila spits and doesn't seem to go anywhere without his shotgun, and Agent Champagne swills whiskey and runs the show from behind an enormous wooden desk.
"It's very American," Eggsy notes dryly at the end of the trailer, to which Agent Tequila responds with a chuckle and an appropriately enthusiastic "fuck yeah."
Kingsman: The Golden Circle premieres in theaters on September 22.