Who Does Channing Tatum Play In 'Kingsman The Golden Circle'?
The major cast of 'The Golden Circle' seems complete as Channing Tatum has joined the team for 'Kingsman 2.' .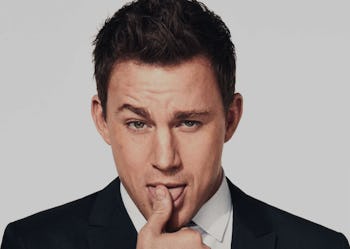 comicbookresources.com
The impending sequel of 2014's stellar Kingsman: The Secret Service just added another action hero: Channing Tatum has announced on Twitter that he'll be joining returning stars Taron Egerton and Mark Strong. While his official role hasn't been disclosed, previous reports about the plot of the film revealed that audiences would see a, "swaggering, sharpshooting cowboy called Jack." If that role doesn't have Tatum written all over it, feel free to revoke my movie nerd license.
The assembled cast for the sequel to Matthew Vaughn's surprisingly fun spy movie send up is looking more interesting by the day. Along side Tatum, the always welcome Julianne Moore has signed on to play the villain, Poppy, and Halle Berry is in talks to play a CIA agent named Ginger.
Meanwhile, The first poster for the film all but confirms that Colin Firth's super agent Harry Hart will be re-joining the cast, as will the totally unmentioned (but utterly charming) Sophie Cookson, as teammate Roxy.
Matthew Vaughn has returned to direct, and penned the script with co-writer Jane Goldman.
The plot of the sequel finds Eggsy (Egerton) and Merlin (Strong) sent on a globe-trotting mission in the wake of an attack on Kingsman headquarters. Their journey will take them across the pond, where they'll interact with their American counterparts, the Statesmen (where you can count on Tatum being the one to greet them).
Not much else is known about the film at this point beyond that Vaughn has promised, "a one-armed henchman, robot dogs and a ski sequence."
Set your calendars for another awesome spy romp when Kingsman: The Golden Circle hits theaters on June 16, 2017.