Watch the First Teaser for Netflix's 'Punisher' Series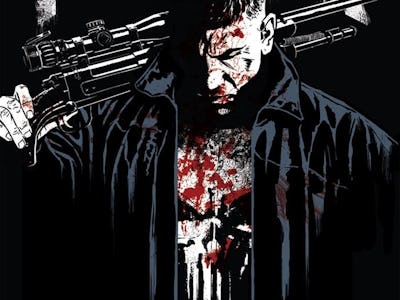 Entertainment Weekly
One batch, two batch, penny and dime. In the time it takes you to say that nursery rhyme, you will have just seen the whole teaser for Marvel's The Punisher series so quickly, it's a crime.
Earlier today, ahead of San Diego Comic-Con, Marvel released the first "teaser" for Marvel's next Netflix series, The Punisher, on Twitter. Accompanying the teaser is the show's new logo, which was previously revealed in a poster ahead of Comic-Con. The classic Punisher skull is still there in all its distressed glory, but now the words "The Punisher" are written in a new typeface font that's different than the ones previously used in the movies.
Although it's set in the expansive Marvel Cinematic Universe, which includes the recent hit Spider-Man: Homecoming and upcoming movies like Black Panther and Avengers: Infinity War, Marvel's The Punisher is a direct spin-off of the first Marvel/Netflix series, Daredevil. In Season 2 of Daredevil, Jon Bernthal (The Walking Dead) played Frank Castle, an ex-soldier who is hell-bent on cleaning up crime to avenge his fallen family. Although the Punisher debuted in comic books as an enemy of Spider-Man, the Punisher has more frequently clashed with Daredevil, and has become popular enough to warrant his own fanbase.
There have been three films starring the Punisher: 1989's The Punisher starring Dolph Lundgren (The Expendables), 2004's The Punisher with Thomas Jane in the lead role, and 2008's Punisher: War Zone starring Ray Stevenson, who later appeared in the MCU as Volstagg, one of Thor's allies from Asgard in Thor and Thor: The Dark World.
See the teaser below.
Marvel's The Punisher is coming soon to Netflix.