'American Horror Story' Fans Think They Know Season 7's Title
To be fair, you're probably all totally wrong.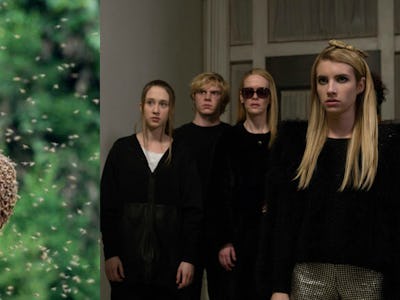 FX, Ryan Murphy/Instagram
American Horror Story co-creator Ryan Murphy has been releasing clue after clue about the title of the upcoming Season 7. On Monday, Murphy released the "last clue" before the the final, official announcement on Thursday: a picture of a person with short, dark hair swathed in bees and looking like a very strange version of a mummy. And with that final clue, fans started buzzing (sorry) about the title — what could it be?
The guesses are, most likely, all wrong, but let's do some digging.
By far the two most prominent guesses about Season 7's title, spurred on by Murphy, are "Hive" or "Hive Mind" and "Phobias."
Now, real information about what to expect from Season 7 is sparse, as the only things confirmed from by sources (aka Murphy) are that the opening scene of Season 7 will include real footage of Donald Trump and Hillary Clinton and that the season is "going to be about the election that we just went through," meaning the 2016 Presidential Election.
A lot of fans assumed that the Presidential Election fixation just meant the season was simply called "Election," but that doesn't seem to be the case, especially when you start taking into account everything Murphy has hinted at so far.
Keep in mind: for Season 6, Murphy took the guessing games to the next level, releasing multiple misleading teasers and promising that at least one of them was correct. The theme turned out to be My Roanoke Nightmare, referencing the original Roanoke colony that famously disappeared without a trace and weaving in ancient magic and cannibalism along the way. Murphy and FX's games kept people interested by infuriating them; if there's anything the internet loves, it's a good mystery to yell at one another about online.
The mystery — and bringing back Sarah Paulson's Season 2 Asylum character — worked, dragging in 2.45 million viewers for the Season 6 finale, an almost 10 percent bump on its previous season's, Hotel.
As a lot of fans online are pointing out in response to people's guesses (including Hive and Phobias), every past season of AHS has been centered around a place rather than an idea. Murder House, Asylum, Coven, Freak Show, Hotel, and Roanoke are all, arguably, locations rather than thematic points, putting Phobias out of the running if you're going for consistency, though consistency isn't something Murphy is known for in his work.
Hive or Hive Mind seems to be the most realistic possibility, but fans have also posited that something like "Suburbs," "Midwest," or "Cul-de-sac" would also work with the clues Murphy has already provided on social media.
American Horror Story Season 7 is expected to premiere sometime this fall. The Season 7 title will be revealed on Thursday.