Here's Everything We Know About 'American Horror Story' Season 7
The seventh installment of Ryan Murphy and Brad Falchuk's horror anthology series.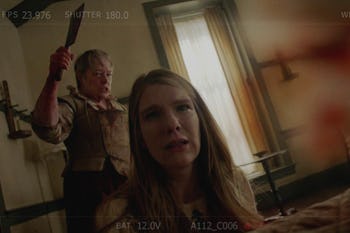 FX
Ryan Murphy and Brad Falchuk's American Horror Story is gearing up for its seventh season. The popular horror anthology series from FX is typically tight-lipped about future seasons up until the first episode's premiere, but Murphy has been uncharacteristically forthcoming this time around. The seventh season will be more grounded in reality than ever before, riffing off the real-life events of the 2016 presidential election for its theme.
Murphy has been taking to Instagram to post hints, and set photos have begun streaming in as Season 7 filming kicked off at the very end of May. And after the enormous mystery leading up to Season 6, Roanoke, and the entire theme around it — which turned out to be more than one theme with the Roanoke colony and a reality television show gone wrong — Season 7's openness is a refreshing new addition to the series' realness.
Of course, it could all just be a lie. The openness has us feeling suspicious. Or maybe it's just leftover trauma from the 2016 election. Anyway, here's everything we know about American Horror Story Season 7.
Season 7 Will Focus on the "2016 Election"
What's scarier than the real-life horror montage the United States went through in 2016? No matter who you voted for in the 2016 presidential election, it's easy enough to agree that it was exhausting and, honestly, pretty fantastic horror fodder. Murphy's announcement in February that Season 7 of AHS would focus on the events of the election seemed to be received with a general consensus of "weird, but okay?"
A lot of AHS fans debated over who would portray the candidates, Trump and Clinton, on the show, but they got their answer in April when Murphy said: "We don't have actors playing them. You'll see them on television. The first 10 minutes of the season, this season, takes place in a very eerie macabre way on election night, and there's something terrible that happens in the lives of our characters on election night as they're watching it all go down. Which in itself was a horror story, so it's like a horror story upon a horror story."
Get Ready for Both Fresh and Familiar Faces
Sarah Paulson and Evan Peters probably won't be a couple this time around like they were in Season 6's Roanoke, as the anthology series rarely keeps the same team-ups from season to season. But Paulson and Peters aren't the only two AHS alumnus confirmed to return in Season 7. They'll be joined by Cheyenne Jackson and Adina Porter of Roanoke, and will welcome newcomers Billie Lourd (featured with icy silver hair in the above photo), Billy Eichner, and Leslie Grossman. Murphy has teased the return of Freak Show characters in the past, so some fans are still expecting further familiar faces to pop up.
Evan Peters Has Some Crazy Blue Hair
Photos emerged of Peters on the set of AHS Season 7 with a neon-blue dye job reminiscent of a photo Murphy posted to his Instagram in May, which he referred to as a "Red, white and blue clue." In the set photos, Peters also sported a sling on his left arm and a pretty nasty (but healing) black eye.
There Will Be a Creepy Demon Republican in the Ranks
Murphy also took to Instagram to post a picture of a "tease" for Season 7. This elephant demon-thing looks amazingly similar to Season 4's Freak Show character Twisty the Clown. It's also worth noting that the Republican Party's official mascot and insignia is an elephant. Since Season 7 will have an election theme, it's only fair to assume this demon will be a stand-in for the Republican Party. Or maybe it'll just smile at people a lot and stand in a corner looking generally terrifying.
Colton "Unofficial Abercrombie Model" Haynes Has Joined In
The Arrowverse and Scream Queens alumna was announced as an addition to the season on June 20. Murphy teased Haynes' roll with a photo that makes the 28-year-old actor look like a knockoff Joker (although the bleach job on his hair is excellent).
When Is AHS Season 7 Premiering?
While there's no official release date yet, the first five seasons of American Horror Story premiered in October, with Season 6 premiering in September. So, it's easy enough to assume that Season 7 will air sometime around then on FX.