Ryan Reynolds Shares New 'Deadpool' Pic With Blind Al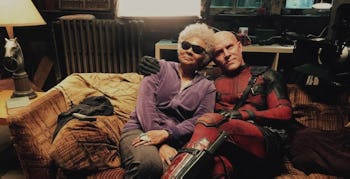 Facebook.com/VancityReynolds
In the cold dead of February 2016, Deadpool heated things up at the box office when his debut solo film grossed more than $700 million worldwide. Among the movie's most colorful characters was Blind Al, played by cinema and stage legend Leslie Uggams, who stole practically every scene she was in. Shooting for Deadpool 2 is in full swing, and on Monday night, Ryan Reynolds may have revealed the return of Blind Al.
On social media, Reynolds shared a new photo of himself in full Deadpool costume and makeup with Uggams, also in full costume. Along with the photo came a caption: "Spent another day with this beautiful lady. Lost in each other's ears. #BlindAl"
It's unknown if the photo is from the set of Deadpool 2 or an old one dug up from filming the first movie. Either way, it's a new picture of Reynolds and Uggams enjoying a quiet moment before Reynolds has to make jokes about Deadpool touching himself.
Filming for Deadpool 2 with director David Leitch (John Wick) is underway in Vancouver. Tim Miller, the director of the original Deadpool, parted ways with the film's screenwriters Rhett Reese and Paul Wernick as well as Reynolds, who has played a key part in bringing Deadpool out of development hell and into the pop culture powerhouse he is today.
Deadpool 2 will be released on June 1, 2018.