Josh Brolin Reveals What Part Thanos Will Play in 'Deadpool 2'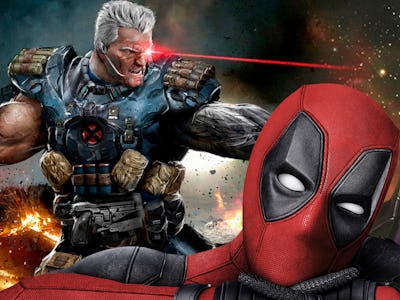 Fox/Marvel
When Josh Brolin was cast as Cable in the sequel to 2016's Deadpool, it was a big deal — not just because there was a ton of speculation about who would play the gruff, time-traveling mutant, but because Brolin was already playing a major Marvel character. For years now, he's played Thanos, the lingering villain behind the Marvel Cinematic Universe. The two franchises don't interact, but the Merc With a Mouth breaks the fourth wall so much that it seemed almost a given that he'd mention how the same dude is playing two characters, right?
Well, according to comments Brolin made on Good Morning America on Monday, maybe not. Or, at least, Cable won't bring it up (Ryan Reynolds may be a different story).
"Do I talk about Thanos in Deadpool? Not yet, not yet," Brolin said. "Again, I may. I don't know. No, I don't. I don't – it's not that I don't break the fourth wall. There's a lot of going on in Deadpool that's very surprising, and that will be very satisfying when you see it. To me, it's even funnier than the first one. That's to me."
In fact, it's because Deadpool 2 is so funny that an initially hesitant Brolin took the part in the first place.
"Eh, they did Deadpool, and I'm doing the Thanos thing right now, and should I do it?" the actor recalled, saying that it was only after his wife encouraged him to really read the hilarious script that he accepted.
Although Brolin's Thanos won't be part of Deadpool 2, he's going to be a major part of the upcoming Avengers: Infinity War. Brolin, along with most of the film's cast, stopped by the D23 Expo over the weekend and posed with the Infinity Gauntlet he'll use to wreak havoc and then shared the picture on Instagram.
Avengers: Infinity War hits theaters on May 4, 2018. Deadpool 2 is slated for a 2018 release.