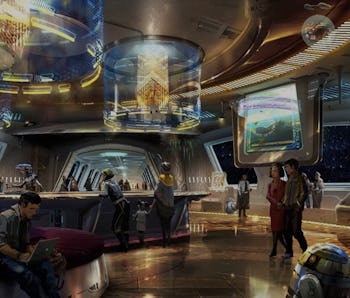 Entertainment
Disney's 'Immersive' Hotel Will be Like 'Star Wars' Meets 'Westworld'
Disney/ Lucas Film
Saturday at Disney's D23 expo was already shaping up to be a big day for Star Wars news, with a brand-new behind-the-scenes Last Jedi featurette premiering at a morning panel. But more was on the way, with Disney announcing an immersive Star Wars-themed hotel concept for Walt Disney World later that afternoon.
And immersive really is the key word here. The luxury resort complex will feature a "multi-day adventure" that includes costumes for guests and a storyline to transport visitors straight into Star Wars. The hotel will be fashioned as a ship in cruising through space in the Star Wars universe. And don't expect any features to accidentally remind you that you're just a normal person on Earth staying in what's actually a normal Earth hotel; reports have it that even the windows of the resort will display space outside.
The announcement was made at D23's Parks Panel on Saturday, and early mock-up images look promising. The concept sounds like a mix between accommodation and theme park attraction, or as Matthew Panzarino of Tech Crunch put it, "Basically, Star Wars Westworld - theoretically minus the murder and dubious sexual politics."
Business Insider reported back in April that the hotel (which was at that point in the research phase) would be roughly $900 to $1,000 per guest for a two-night, all-inclusive package — including a two day story narrative that includes interacting with performers and attractions throughout "the ship." No date has been confirmed for the completion of the immersive hotel.
During the same panel event a (much cooler) name was also announced for Star Wars land: Star Wars: Galaxy's Edge. It's slated to open in California and Florida in 2019.