Why Was Trump Forced to Endure a Daft Punk Cover Band?
Around the world / Around the world / Around the world / Around the world (x6500)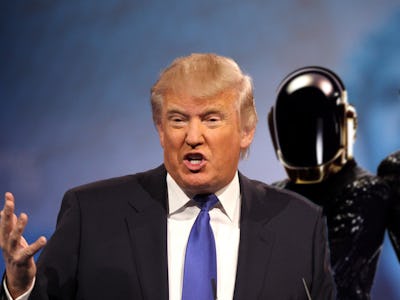 James Grebey
On Thursday, President Donald Trump visited French President Emmanuel Macron in Paris to celebrate both Bastille Day and the 100th anniversary of America supporting the French Revolution. Trump was told he'd have a prime seat to watch the parade, and that American soldiers would march alongside French soldiers. What he probably wasn't warned about was the huge brass band that played Daft Punk cover songs for several minutes straight.
To contextualize the ridiculous footage of Trump frowning through a big band version of "Get Lucky", one should remember that Sean Spicer was ridiculed earlier this year for having tweeted angrily about Daft Punk back in 2014. While live-tweeting the Grammys, he called them "Daft Funk" and said they were "u r blowing it" before adding the appropriate hashtags. He also added, "come on helmets? tey need to grow up" (sic).
Fast forward to 2017, when the president Spicer works for was forced to sit through an entire medley of Daft Punk hits, played by a very serious looking brass band. The footage of the performance is made all the more charming by the fact that Emmanuel Macron seems to be having the time of his life, jamming out to "Harder, Better, Faster, Stronger" as much as he can while remaining seated.
It's only when Macron turns to Trump on his right, just to check to see if the American president is enjoying "Digital Love" that he realizes Trump is frowning like a cartoon villain. You can actually see Macron's soul leave his body when he stares into the middle distance and wonders if maybe this pop music display backfired. Will Trump bomb France because he hates Daft Punk so much? Who can say?
As the (admittedly catchy) brass band plays on, Trump actually folds his arms over his chest in the universal sign for "I hate this and I want to go home." There's no chance even the French musicians in the band who don't speak English misinterpreted his expression.
Though Macron glances over at Trump, the American president spends the entire song pretending he's alone with Melania. At some point, he even leans over to Melania to make a pursed-lip statement that looks negative — he caps it off with a little disapproving shake of his head. It's possible he's telling his First Lady that the performance is a "nothing burger".
You can watch the full performance, uploaded online by The Guardian, below. Any added awkwardness in the air may have been due to Trump manhandling Emmanuel's wife, First Lady Brigitte Macron, earlier that day. He also commented on her figure and assured her she was beautiful with such force that Macron hid behind American First Lady Melania Trump.