Watch: Band Plays Daft Punk to Trump and Macron on Bastille Day
Trump's reaction is perfect.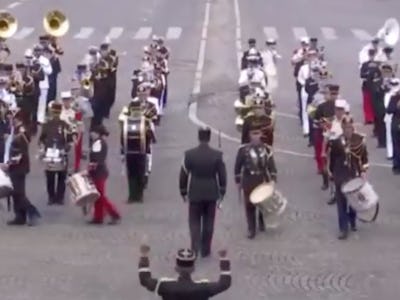 BFMTV/Twitter
When President Donald Trump visited France during his European tour, he probably didn't expect a surprise rendition of Daft Punk performed by a military band. On Friday, the country celebrated Bastille Day with a parade through Paris. A video of Trump watching the band with a bemused look, sitting next to a beaming President Emmanuel Macron, was published by French news channel BFMTV.
"Come for the high camp, stay for the look of bewilderment on Trump's face," Jonathan Freedland, columnist for the Guardian, said on his Twitter page along with a link to the video.
This July 14 marks 228 years since the Storming of the Bastille, regarded as a turning point in the French Revolution, and 227 years since the Fête de la Fédération celebrated the resultant new form of government. Paris's Bastille Day parade, held on the Champs-Élysées, is the oldest and largest regular military parade in Europe, an event first held in 1880.
It seems like a surprising way to end such a grand parade, but in the video the commentators explain that this is a regular occurrence, and that French military orchestras tend to play renditions of modern songs. Following the medley, the band played "C'est la fête" by Michel Fugain.
Watch the performance below.
The video was rapidly shared around the internet. At the time of writing, BFMTV's Twitter post containing the video had over 1,000 retweets. The response has been overwhelming.
"Trump's hair dancing to the music of its own accord," said Nadia Khomami, reporter for the Guardian.
"J'adore!" said Twitter user Heather Jordan. "Trump is a 'daft punk' for sure!"
"Such fun!" said Twitter user Nicky Wildy.
The parade is part of Trump's second trip to Europe in under a month, and so far it's been just as eventful as the first. When he first arrived in Warsaw, Poland, on July 5 ahead of the G20 summit, he was greeted by Greenpeace protesters who had shone a pro-Paris Agreement message onto the city's Palace of Culture and Science. In an interview the following day, Trump attacked CNN over the wrestling animation controversy, describing the outlet as "fake news."
His second trip, which started on Thursday, is aimed at celebrating transatlantic ties. However, at home a scandal is brewing over his son's emails regarding a meeting with a Russian lawyer. Trump took to his Twitter page to decry the story as "the greatest Witch Hunt in political history." The Daft Punk performance may provide an entertaining interlude for the president, but Trump faces a growing number of questions when he returns to the states.