Check Out These Gorgeous New 'Black Panther' Photos
Heavy is the head that wears the crown.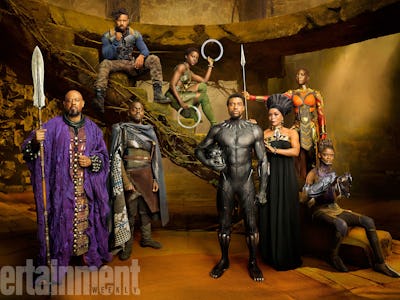 Entertainment Weekly
All hail the king. A ton of new photos for Marvel's Black Panther, which will hit theaters on February 16, 2018, has just been released. Aside from the teaser trailer Marvel released during the NBA Finals, these pictures from Entertainment Weekly's annual Comic-Con issue are the most generous look at the world of Wakanda fans have had yet.
Set after the events of Captain America: Civil War, Black Panther (Creed) follows T'Challa (Chadwick Boseman), the new king of the reclusive, advanced nation of Wakanda as he faces a challenge from Erik Killmonger (Michael B. Jordan), a dissident who seeks to usurp the throne. To prevent all out war, T'Challa suits up as the Black Panther once again to quell the insurrection from within his own kingdom.
Black Panther sports a large ensemble cast featuring some of today's most prominent black actors. Along with Boseman and Jordan, there's Forest Whitaker as Zuri, a shaman and trusted advisor to the king; Danai Gurira (The Walking Dead), Florence Kasumba (Wonder Woman), and Oscar winner Lupita Nyong'o (12 Years a Slave) as members of the Dora Milaje, the Wakandan special forces and guard to the king; Angela Basset as T'Challa's mother, Ramonda; and Daniel Kaluuya (Get Out) as W'Kabi, T'Challa's best friend and confidant.
Check out some of the new photos of Black Panther, which give a clear look at the film's stunning costumes and visual designs.
Up close with the Black Panther's mask.
T'Challa, unmasked, looking like royalty.
Erik Killmonger challenges T'Challa in a sanctioned fight at Warrior Falls, a holy place in Wakanda.
The Dora Milaje look on during T'Challa and Killmonger's fight.
Black Panther's sister Shuri (Letitia Wright) accompanies Nakia and Ramonda with CIA operative Everett K. Ross (Martin Freeman), his second appearance since Captain America: Civil War.
King and dissident stare each other down.
Nakia and Shuri, teaming up for some action.
A portion of the film will take place in a high-end underground casino in South Korea, which only emphasizes the global, spy movie-esque scale of Black Panther.
All hail to the king.
Black Panther will be released on Feburary 16, 2018.