The Internet is Obsessed With the 'Black Panther' Teaser Trailer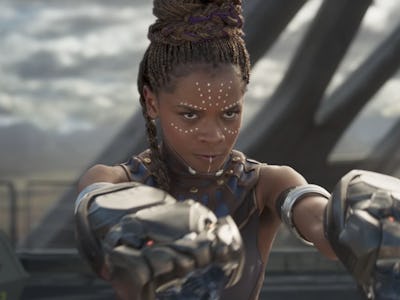 Youtube
The first trailer for Black Panther debuted Friday night during the NBA Finals, and it's fair to say now that the film looks like it's going to be good. Like, really good.
The action-packed teaser trailer provides a glimpse into the insanely cool sci-fi nation of Wakanda, where T'Challa (aka the Black Panther) returns to rule as king. It's also the first look at a full cast of badass Marvel characters, featuring Florence Kasumba, Lupita Nyong'o, Michael B. Jordan, and, of course, Chadwick Boseman as the Black Panther himself.
With its predominately black cast — featuring a slew of powerful warrior women — and a story that centers around an African nation that's the most technologically advanced in the Marvel Universe, the trailer prompted a celebration of sorts on Twitter. The film looks like it's going to be a win for black representation in the Marvel Universe — as well as a stylistic triumph for a bourgeoning franchise — and everyone's pretty excited.
The trailer is so cool looking that the hashtag #BlackPantherSoLit grabbed a lot of the Black Panther praise.
Twitter users also cheered for the casting and crew.
Some people are already getting prepared for the premiere of the film.
Unfortunately, there's still a lot of time left until the film actually reaches the big screen. Black Panther opens in theaters on February 16, 2018.