Fan Reaction to Milana Vayntrub as Squirrel Girl is Mostly Ecstatic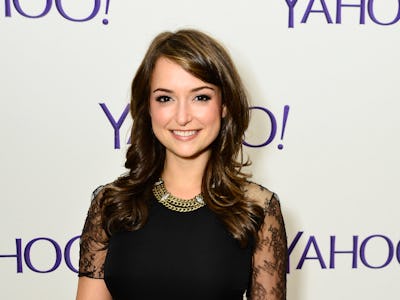 Getty Images / Jerod Harris
Milana Vayntrub has been cast as Squirrel Girl in the forthcoming Marvel series New Warriors, and people are freaking out (with mostly positive reactions). The show's storyline will follow a group of six young adult superheroes, but the hype has been pretty much all about Squirrel Girl from the beginning, so this casting choice is big news.
Vayntrub shot to fame as the recurring character of "Lily" in the AT&T commercials and has recently begun playing Sloane Sandburg in This is Us. She's originally from Uzbekistan; when she was three, she fled to the United States with her family because they couldn't openly practice Judaism in the Soviet Union.
The online reaction to the casting news has mostly been ecstatic. Fans can totally Vayntrub as the "wonderful heart" of New Warriors; they think that her performance as the sweet, slightly awkward "Lily" bodes well for her pulling off Squirrel Girl.
But some fans wished that the part had been cast differently: The actress Shannon Purser, who played Barb from Stranger Things, had been a popular choice, as well as Anna Kendrick:
And many were disappointed that Squirrel Girl, who is often portrayed as plus-sized, will be played by a skinny actress:
New Warriors will premiere on Freeform sometime in 2018.