Here Are SpaceX's Next 12 Launches Scheduled for 2017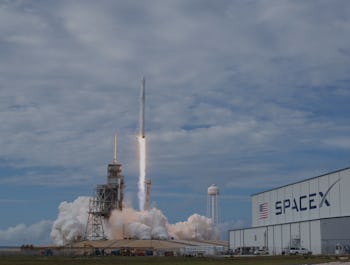 Getty Images / Bill Ingalls/NASA
SpaceX's incredibly busy 2017 is only going to get busier.
On Friday, SpaceX CEO and founder Elon Musk posted a short recap of the company's year so far on Instagram: 10 launches down, 12 more to go. We're currently a little more than halfway through the year and more than halfway through the summer of SpaceX, and, although the rest of July looks pretty sparse, the company has an ambitious schedule lined up for the rest of the year.
Musk's announcement that there will only be 12 more launches this year changes the calendar somewhat, and it's possible that this list may also have to change (which is normal, as precise scheduling isn't usually set months ahead for rocket launches. Atmospheric conditions or technical difficulties can and often do scrub a mission completely (it's rocket science after all), as well, so this plan could change on a day by day basis. As it stands, however, SpaceX watchdogs on Reddit and across the net mostly agree that this is the most likely lineup for the rest of the year.
August
Missions resume in August when the Eastern Range (the term for the rocket range comprising both Cape Canaveral and Kennedy Space Center) re-opens after some maintenance. Here's what is first up:
- August 10: SpaceX CRS-12, Cape Canaveral, a resupply mission to the ISS. It's supposed to go up on the 10th, but there's often a few days wiggle room for weather conditions.
- August 24: Formosat 5, Vandenberg Air Force Base (California), an "observational satellite" launch for the government of Taiwan.
- X-37B OTV-5, KSC, SpaceX is launching Boeing's experimental X-37 spacecraft/ spaceplane on its fifth mission atop a Falcon 9 rocket. The specific date isn't set for this one yet.
September
Launch dates usually aren't set until closer to the actual date, so some of these are approximate, particularly after September.
- Iridium NEXT (3), Vandenberg. SpaceX is sending up 10 mini satellites as part of the Iridium satellite constellation. This is the third Iridium NEXT launch carrying satellites 21-30, and SpaceX has a lot more planned.
November
- November 1: SpaceX CRS-13, Cape Canaveral. Yet another resupply mission. SpaceX is expected to try flying a reused Dragon spacecraft for this one again, further testing the reusability of all of its equipment.
December
- December 16: Bangabandhu-1, Cape Canaveral. This one is exciting: It's Bangladesh's first geostationary communications satellite! It'll be operated and regulated by the Bangladesh Telecommunication Regulatory Commission, an independent commission that covers pretty much all communication in the country. It also has a habit of banning atheist blogs and websites, which is less exciting (Bangladesh is mostly Muslim, with some Hindu).
Late 2017
These launches don't have set dates yet, but they're likely to still be on the manifest for 2017.
- SES-11, Cape Canaveral. SES has been contracted with SpaceX for years, launching communications satellites to broaden its network. Its last launch, SES-10, was the first commercial launch of a reused orbital-class rocket, which speaks both to SpaceX's achievement and SES's trust in the company.
- SAOCOM 1A, Vandenberg. The SAOCOM 1A is an Argentine observational satellite that will be mainly used to monitor for natural disasters like earthquakes and hurricanes.
- Koreasat 5A, KSC. Korean communications satellite serving much of East Asia.
- Iridium NEXT (4), Vandenberg. The next wave of 10 satellites in the Iridium constellation.
- SES-16, Cape Canaveral (most likely). A military satellite from the government of Luxembourg that will help with NATO missions.
- Falcon Heavy Demonstration Flight, Cape Canaveral. This is the big one, which Musk has said should start in late summer but could potentially get moved back. SpaceX hasn't confirmed any prospective launch dates yet, but the launch is going to be a tight squeeze if it's going to go up this summer.
It's possible that any of these flights could change, of course. SpaceX has a fifth Iridium NEXT flight tentatively scheduled for December 31 that will probably get moved into the new year, and there are a handful of other missions that might be rotated in, but whatever happens, the end of 2017 is looking even busier than the start.