HBO Announces 'Curb Your Enthusiasm' Season 9's Premiere Date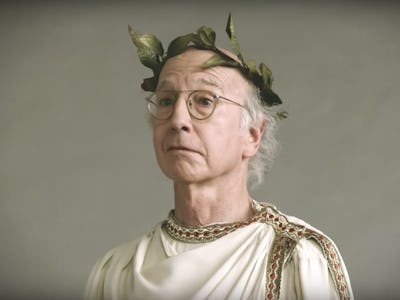 HBO
It's been 5 years, 9 months, and 29 days since there's been a new episode of HBO's acclaimed, cringeworthy comedy Curb Your Enthusiasm, but that drought is coming to an end. HBO announced the premiere date for the long-awaited ninth season of Larry David's masterpiece: October 1.
The network broke the news on Monday afternoon with a YouTube video that was, in typical Curb Your Enthusiasm fashion, both a big deal and intentionally a bit of a letdown. David stands like a Roman Ceasar of old, as bold lettering tells his story: "He Left. He Did Nothing. He Returned," which was the same explanation David gave for the lengthy gap between seasons back when HBO announced the revival back in June of last year.
At the end of it, David turns to the camera and remarks that this was pretty good before asking to be spun around again.
Curb Your Enthusiasm's last episode, "Larry vs. Michael J. Fox," aired way back in September of 2011. A lot has changed since then, but chances are David's character will be as crotchety as ever.
Curb Your Enthusiasm Season 9 will premiere on October 1 on HBO.