More Evidence Suggests Jon and Dany Will Bang in 'GoT' Season 7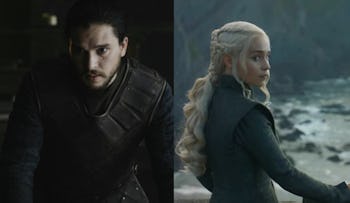 'Game of Thrones'
When you play the Game of Thones, you win or you die — but if you're Jon Snow, you might just hook up with your aunt. The prevailing theory regarding Jon Snow and Daenerys Targaryen is that they will either duke it out in Season 7 or become lovers. Either way, it's now been confirmed that they'll meet in the show very soon.
In July 10 interview with Uproxx, Game of Thrones costumer Michele Clapton had a lot to say about how various character costumes communicate personality and intentions, including the confirmation that Jon will encounter both Dany and Cersei Lannister at some point this season.
For Jon, his iconic fur cape says a lot about his character. Clapton said, "We had a lot of discussions about does the cape give him presence or is it better to not have that presence? What are we trying to say?" She specifically mentioned occasions when they wanted a more "vulnerable" side to Jon. "There are times when we removed it because we wanted him to be more vulnerable. Especially I think, when he saw Dany, and he went to see her for the first time in her chamber."
Jon will enter Dany's "chamber" at some point in Season 7 without his cape on?
This implies that Jon and Dany's relationship will show a more vulnerable side to Jon that he can't really afford to expose to other people, which could mean they don't wind up enemies. By contrast, Clapton confirmed that when Jon inevitably meets Cersei, he'll definitely wear his cape so as to seem more formidable.
But does Jon's so-called vulnerability when it comes to Dany lead to a more romantic relationship? Or will that vulnerability culminate in the plea for help from a desperate leader gearing up for the "wars to come"? Either way, the iconic meeting of Dany and Jon will almost undoubtedly be something fairly intimate.
Set reports from October 2016 confirmed that Jon and Dany were slated for a meeting sometime in Season 7 at Dragonstone, and since then, official trailers have put Dany at Dragonstone early on in Season 7. So it looks like Jon will also make his way there sometime soon.
Game of Throne Season 7 on HBO begins on Sunday, July 16 at 9 p.m. Eastern.