Netflix Reveals 'BoJack Horseman' Season 4 Premiere Date
It's coming on Ptember 8.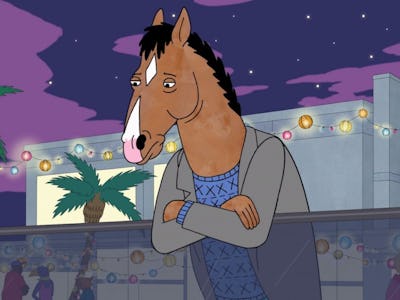 Netflix
The most depressing comedy on television is coming back. On Monday, Netflix announced the Season 4 premiere date for Bojack Horseman, the acclaimed animated comedy starring Will Arnett as the titular washed-up horse actor. The entire fourth season will hit the streaming service on September 8, 2017.
The show's official Twitter account broke the news with a tweet consisting only of an image that looked like it was from Bojack's perspective. A blurry hand attempts to block the sun as he stares across the southern California desert to see skywriting above him. "All new episodes September 8," the writing reads. Although, because of that hand, it technically just says "Ptember 8." So, maybe Season 4 won't premiere until the eighth day of the fabled thirteenth month.
"How do I make a picture on the internet go away," a follow-up tweet reads, which is keeping in character with Bojack's haggard, regretful self.
The show reached a new high-water mark for itself (in an ironically aquatic episode) during Season 3, so we'll be eager to see if it can top "Fish Out of Water."
BoJack Horseman, which also features the voices of Amy Sedaris, Paul F. Tompkins, Aaron Paul, and GLOW star Alison Brie, hits Netflix for Season 4 on September 8.