Everyone Wanted Terry Crews in 'Overwatch.' Now They're Mad.
The 'Brooklyn Nine-Nine' actor isn't in 'Overwatch.' Here's how these rumors started.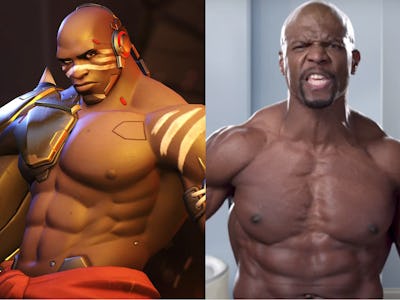 Blizzard, YouTube.com/Old Spice
Former NFL player, actor, painter, and human meme Terry Crews isn't voicing Doomfist in Blizzard's online shooter Overwatch, and fans aren't happy.
After months of speculation, Blizzard has finally unveiled its villainous new character, an offense-based brawler with a powerful, synthetic right arm. In Blizzard's sleek anime-style trailer, marking his debut, Doomfist isn't voiced by the over-the-top Old Spice spokesperson but instead Sahr Ngaujah (The Blacklist), an American theater director and actor of Sierra Leonean descent. While fans appear to have nothing against Ngaujah, it's the mere fact that Doomfist isn't Crews that has fans angry.
Speculation that Crews would play Doomfist began in December 2016 when the Brooklyn Nine-Nine star visited Blizzard Entertainment's offices in California. Crews, who took up gaming as a hobby to get closer to his son, got hooked on Overwatch and was invited to check out the studio in person. Fans knew that Doomfist, a buff mercenary from Nigeria, was coming; Easter eggs like museum posters have been a constant presence in the game's multiplayer maps. So after Crews shared a photo of his visit on Facebook, fans assumed right away that Crews would play the powerful villain.
Now, Doomfist is here, and he isn't Crews. Because of the actor's infectious energy and charisma, Crews has a unique brand of recognition that few other actors enjoy, and fans seem to be missing it. Since the announcement, which took place earlier today, many have taken to Twitter to voice their displeasure.
On the opposite end of the spectrum, some fans don't mind that Crews isn't Doomfist.
As if to quell any speculation over harsh feelings between himself and Blizzard, Crews went on Twitter to thank fans for the "consideration" while declaring his undying love for Blizzard's popular shooter game.
But it will take some time before fans get over it. Until then, there will be GIFs and memes mourning how Doomfist isn't voiced by the one and only Hale Caesar.
See the Doomfist trailer reveal below.