Why Does Mike Pence Keep Using a Weird Phrase to Describe Space Launches?
"Like Earth... giving birth"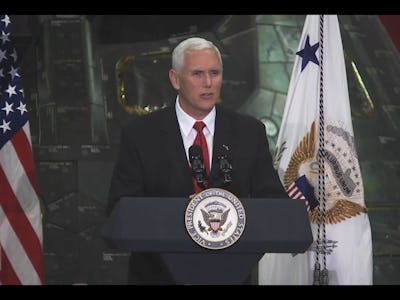 YouTube
Vice President Mike Pence sure loves space, but the way he describes it is baffling. The new head of the National Space Council — revived last week by an executive order signed by President Donald Trump — stopped by Kennedy Space Center for a short visit today to take a tour of the various facilities on grounds and talk about U.S. space policy. During his a half-hour long speech, Pence repeated an oblong line he's used before to describe space launches, and it might be a good sign that we better be prepared to to hear many more times during the rest of this administration's run.
Perhaps the line isn't so surprising when you remember that Pence likes to call his wife Nancy "mother." The matriarchal metaphor he uses to talk about space launches is perhaps just an extension of what is already naturally on his mind.
That's weird as hell and perhaps warrants a separate discussion into the psychology of the vice president, but we won't get into that right now.
What's the line, you might ask? Well, here is Pence on June 7, at Johnson Space Center in Houston, speaking at the introduction of the newest recruits to NASA's Astronaut Corps, at the 4:23 mark:
"…to see a launch, especially at night, at Cape Canaveral — it's like seeing the Earth giving birth to a piece of the sun, and sending it home."
And here he is, Thursday, at KSC, using virtually the same line, at the 56:46 mark:
"…to see the sights and sounds of a launch here at Cape Canaveral was like seeing the Earth giving birth to a piece of the sun and sending it home."
Basically, Mike Pence likens space launches to birthing. Now, I know human birth is a loud and messy process, but — and I'm no doctor or anything, so I could be wrong (but also I'm not wrong) — the introduction of newborn life into this doesn't involve fiery explosions and pieces of metal being flung out in every which direction and leave a scorching dent on a launchpad or anything.
And moreover, to talk about rockets as a "pieces of the sun" going "home" just exacerbates the awkward confusion. There's no rocket shooting off into the sun — and if there is, I'm fighting tooth and nail for a first-class seat on that ship if it means I get to stop hearing failed attempts at rhetorical poetry by politicians.
The vice president does not know what makes a good simile. And as the head of the National Space Council, odds are high we'll be hearing the same bad line being repeated at every subsequent space speech Pence makes over the next three-and-a-half years.
Well, better him than Trump, I suppose.
In any case, if you'd like to wash your eyes and ears and spirit of that nonsense, here's something which provides a more artful metaphor to birth in which to soak your brain: