Mike Pence Confirms a Space-Related Campaign Promise
Vice President Mike Pence will make space great again, or whatever.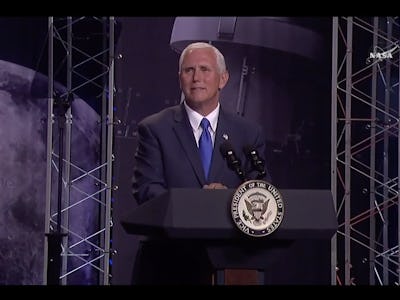 NASA TV
There was big news out of Houston, Texas on Wednesday as NASA announced the members of the newest class of the agency's Astronaut Corps at a press conference at Johnson Space Center. The man of the hour, however, was Vice President Mike Pence, who, in addition to delivering his and the White House's congratulations to the nation's 12 newest newbie astronauts, also managed to fulfill a promise he and President Donald Trump made on the campaign trail last year.
National Space Council Back
"I am especially excited to announce, after more than two decades from when it was disbanded too soon, President Trump will relaunch the National Space Council," Pence said at Wednesday's event at Johnson Space Center. "And it will be my great honor as Vice President of the United States to chair the new National Space Council in Washington, D.C.
During last year's election campaign, Trump and Pence had given very few indications of what they specifically had in mind for NASA and U.S. space policy should they be elected. In the months since, a lot of questions remain. One of the few concrete things the pair managed to express was a desire to resurrect the NSC, which possesses two stints of a lackluster legacy over the last half-century.
However, although the history of the NSC is weak, it could very easily play a significant role moving forward, by acting as a central meeting point for NASA, the U.S. military, and the commercial sector to discuss different ideas for U.S. space exploration.
Much of this means reorienting NASA and the rest of the country's civilization space program to focus towards deep space exploration, and give the private sector more freedom to ingratiate itself in operations related to low Earth orbit.
"By tapping the bottomless well of American innovation through increased collaboration with commercial space industries, we can seize opportunities that will benefit our nation and our people for generations to come," Pence said.
He went on to argue the NSC "will ensure that America never again loses our lead in space exploration, innovation, and technology." It's really unclear what he means by that — most space experts would agree the U.S. still heads the world's most powerful space program by far.
What Pence's speech lacked in specifics, it made up for in bold general promises, such as when he said that under the current administration, "NASA will have the resources and support you need to continue to make history, to push the boundaries of human knowledge, and advance American leadership to the boundless frontier of space.
"Under President Donald Trump, American will lead in space once again, and the world will marvel."