Doomfist Beats Down Three Heroes at Once in New 'Overwatch' Video
He's super-fast and super-strong. Is there anything he can't do?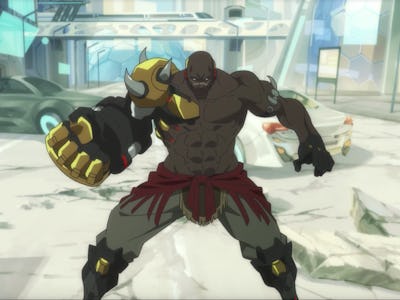 'Overwatch'
The newest hero to join the ranks of Overwatch is here, and as many players expected, it's the villainous Doomfist. His release on the Public Test Region (PTR) on Thursday coincided with Blizzard releasing a badass anime short about Doomfist's origins, and in it, he gives Tracer, Winston, and Genji a beatdown.
In the world of Overwatch, Doomfist is actually a mantle that's been worn by three different heroes. A July 4 blog post confirmed that the third wielder of the Doomfist Gauntlet is a man named Akande Ogundimu. In the present day, he recently escaped from a high-security prison with help from the terrorist organization Talon. He's one of the "bad guys" on the same side as Reaper, Widowmaker, and Sombra.
In the Doomfist's Origin Story video, the unarmed hero fumes in his cell at the Helix facility, remembering the confrontation he had with members of Overwatch that led to his initial capture. As he punches the walls of his cell, he remembers almost singlehandedly taking down Genji, Tracer, and Winston.
In the video, Ogundimu is super-fast with impeccable reflexes, and he is also able to use the massive Doomfist itself for powerful attacks and shielding — all of which strongly hints towards how he'll actually fare in the game.
After temporarily knocking the gorilla Winston out, he's able to outmaneuver even Genji — who's a cyborg ninja, by the way — before successfully disabling the chronal accelerator that keeps Tracer synchronized with the flow of time. It's only when Winston goes ape with Primal Rage that Doomfist is defeated.
But now, with him finally out of prison, it's time for him to join the fight in Overwatch as a new Attack Hero.
There's no official release announced just yet for Doomfist on consoles and regular play, but in the past, it's only been a couple weeks between the PTR testing phase and full release of new Overwatch characters like Orisa, Sombra, and Ana.