7 Essential Science Fiction Books for July 2017
From warring apes, to space pirates and beyond, here are the best sci-fi books of the month.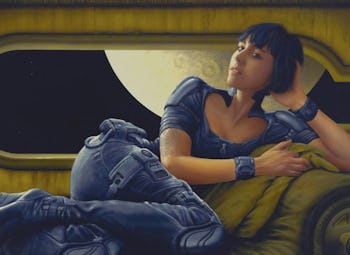 Amazon
July's hottest titles in science fiction are representative of just how eclectic the genre truly is. From a literary novel about a tech mogul and mind-melds, to social commentary rendered in the architecture of a city, to intelligent apes gone totally bananas, it doesn't get much more diverse than this. With several of the recommended books containing numerous stories inside of them, consider July your month to get caught-up on some great science fiction that you might have missed. Onto the list!
Here's near future science fiction that barely sounds like science fiction. In a world of brain-chip implants, a woman escapes from pushy tech CEO and his virtual stalking, only to find another world even stranger. Here's mainstream literary fiction meets contemporary cyberpunk with a sense of humor.
Out now
Class warfare gets literal in this new standalone sci-fi adventure. A microcosm of social-climbing is rendered cleverly in a future world in which different social classes are determined by which level of "the City" different people live on. Think: Snowpiercer without the train.
Out now
One of the most underrated writers of science fiction's so-called "Golden Age," was easily Clifford Simak. And while his novels (like Way Station) are widely praised, his short fiction is sometimes forgotten. But, Open Road Media has been collecting all of his short fiction in numerous volumes. This month, three additional volumes will be published as ebooks.
Out now
From familar names like Carrie Vaughn and Ken Liu, this volume contains the work of tons of contemporary science fiction authors. Obviously, the majority of this stuff will be short fiction published in 2016, but if you ever feel like you don't know where to start with new SF, these Dozios anthologies are the best place to start.
Publication date: July 11, 2017
5. Dark Sky by Mike Brooks
The second in a series which began with the novel Dark Run, this installment finds a space pirate-type named Ichabod Drift trying to gain a conscience. Think Han Solo meets union politics in outer space.
Publication date: July 11, 2017
Think of a modern-day version of The Day the Earth Stood Still. Now, imagine it was done with all realism possible, and with a touch of Arthur C. Clarke. That's what acclaimed sci-fi writer Nancy Kress's new seires is like. Aliens have landed and are chilling in the Manhattan harbor, but they're shy about coming out, but what do they really want. Kress — the author of the excellent Probability Moon — is basically giving readers a huge treat with the start of a new startling sci-fi series.
Publication date: July 11
Arguably the biggest sci-fi tentpole film of the summer, might also be the coolest fun read. Author Greg Cox is an expert when it comes to expanding established sci-fi universes. His work on Godzilla and countless Star Trek books prove his chops. Without a doubt, his novel version of the new Apes film will contain way more character detail than the film is able to convey.
Publication date: July 18, 2017
Check out our previous month's sci-fi book lists: