Emilia Clarke Will Not Bring Back Daenerys for a 'GoT' Spin-Off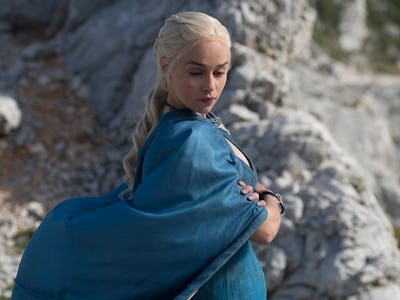 'Game of Thrones'
When the eighth and final season of Game of Thrones wraps up, don't expect the Queen of Dragons to stick around for anything else set in Westeros.
Whether or not her character, Daenerys Targaryen, successfully claims the Iron Throne, actress Emilia Clarke will retire from the role — supposedly for good — when the main series finishes.
This comes from an interview with Rolling Stone, published June 28, in which Clarke said, "I have no doubt there'll be prequels and sequels and who knows what else. But I am doing one more season, and then that'll be it." That'll be the last we see of Dany.
It was already announced back in May that HBO was working on as many as four separate Game of Thrones spin-off series, but the plot(s) remain unconfirmed. The history of Westeros goes back thousands of years, so it's unlikely that any potential spin-offs will involve any current characters in the present day.
Game of Thrones has already shown flashbacks to the birth of the White Walkers and a younger Ned Stark at the Tower of Joy, so if the spin-offs retread anything, it's likely to be the recent past with entirely new actors.
Many fans wanted a prequel of Robert's Rebellion, in which a young Ned Stark and Robert Baratheon go to war to rescue Lyanna Stark (Jon's mother). Unfortunately, Game of Thrones creator George R. R. Martin has already confirmed that it won't happen.
The Mother of Dragons can breathe (fire) easy, because any potential prequels probably won't include her, but that doesn't mean HBO won't try to follow-up the immensely popular series with some kind of sequel.
Game of Thrones Season 7 premieres July 16 on HBO at 9 p.m. Eastern.