Volvo Just Announced the 'Historic End' of Non-Electric Cars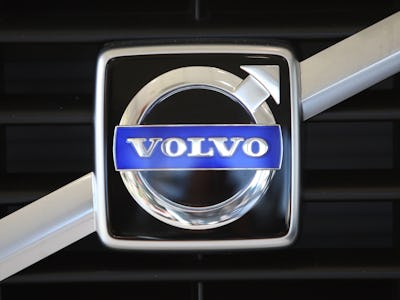 Getty Images / David McNew
Volvo took a decisive step toward the end of internal combustion engine cars on Wednesday, as it announced "historic" plans to shift entirely to a lineup of cars with electric motors. Starting from 2019, every car that Volvo launches will feature an electric motors in some way, covering the spectrum from fully electrified cars to plug-in hybrid cars and more traditional hybrids.
"This announcement marks the end of the solely combustion engine-powered car," said Håkan Samuelsson, president and chief executive of Volvo, said in a statement. "Volvo Cars has stated that it plans to have sold a total of one million electrified cars by 2025. When we said it we meant it. This is how we are going to do it."
The move, one of the biggest from a major car brand into the electric space, comes as competitors seek to take a slice of a growing market. Tesla's Model 3, set to launch later this month, will bring the famed electric car company to a whole new audience with its $35,000 price tag, while the Nissan Leaf, currently the best selling electric vehicle of all time, has received some upgrades this year that include a bigger battery. Where in 2012 the global EV market reached around $83.5 billion, this is expected to grow at an annual rate of around 19 percent til 2019.
Volvo is following a three-pronged strategy for electrification. At one end is the "mild hybrid," a 48 volt system that combines a battery for energy storage with a solution that acts as a starter, generator and electric motor. This helps a traditional engine achieve greater fuel economy, in a similar vein to the Toyota Prius.
The next step up is the plug-in hybrid. The twin engine technology gives a combination of pure electric and high performance drive modes depending on the situation. This system is best compared to the Chevrolet Volt.
The third part of the strategy is the all-electric model, similar to Tesla and the Nissan Leaf. Between 2019 and 2021, Volvo plans to release five all-electric models, based on its compact modular architecture. Three of these will be produced under the Volvo brand, while two will be high performance vehicles under the Polestar brand. Volve spun Polestar out earlier this month into a separate high-performance electric car company.
"The time for electrification has finally come," Henrik Green, senior vice president of research and development for Volvo Car Group said in a prerecorded video. "The technology is right, the price is right, and our customers are ready."