NAIAS 2017: The Dopest New All-Electric Cars for 2017
Some are concepts, some are for sale now. None require gasoline.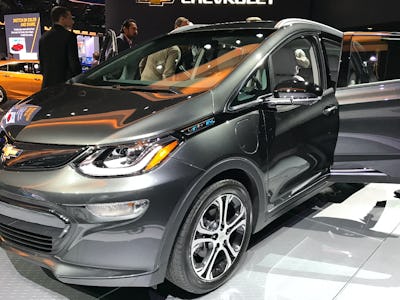 Nick Lucchesi
If you're like me, you can't help but roll your eyes when in the presence of wide-eyed, frothy enthusiasm over gasoline-sucking SUVs that fill the floors of auto shows like the one in Detroit this week. You can't help but wonder about the sustainability of an industry that largely rests on a single-owner/driver model and sells vehicles that run on fossil fuels. In spite of the fact that every auto executive's press conference remarks are future-focused, these shows are still largely about gasoline and romanticism, dotted with engines that are presented like works of art.
Tucked in the corners, though, are signs of life, in the form of fully electric cars that offer an alternative to a life paying for gallons of liquid poison. Why half-step with a hybrid? Fuck fossil fuels. Here's a brief look at the newest all-electric vehicles on display at the North American International Auto Show in Detroit this week (the show is open to the public January 14-22). Some are concepts, some are for sale now, and none require gasoline.
First, a few notable exceptions: There aren't any Teslas, largely because Elon Musk's car company has boycotted the show two years running because it isn't allowed to sell its cars in Michigan, due to the dealership structure and what you might call "anti-Tesla legislation." Fiat is also MIA, because its fashionable 500e (slogan: "ugliness is the worst form of pollution") isn't sold in Michigan. Sorry.
1. 2017 Chevy Bolt
Battery 60 kWh / Range 238 miles / Base Price $30,000
This is it. The freakin' car of the year across the board, and Chevrolet's positioning of the Bolt was front-and-center, a rare move among automakers that, for the most part, put their EVs in the back.
2. 2017 BMW i3
Battery 33 kWh / Range 114 miles / Base Price $42,400
The i3 for 2017 gets more from the same battery size because a denser, heavier battery that offers a longer range than the previous version, which topped out at 81 miles a charge. It takes 4.5 hours to fully recharge with a Level 2 charging station (one step above plugging your car into a wall socket). Notably, the car also uses kinetic energy from hitting the brake pedal and converts it into electrical energy that feeds the battery.
3. Chrysler Portal Concept
Battery 100 kWh / Range 250 miles / Base Price ???
There's no year attached to this concept, but CEO Sergio Marchionne told reporters this week it might come out around 2018. That's great news for anybody who wants an all-electric autonomous minivan. While Elon Musk has hinted that Tesla may have one in the works, this would offer stiff competition if Chrysler can deliver. "We haven't been shy to say that we see the Portal as what we view as the future of family transportation," Tim Kuniskis, Fiat Chrysler's passenger car chief for North America, told The Detroit News at the show. "People ask me, is it a minivan? Is it a crossover? Is it a UV (utility vehicle)? We just say it's the fifth generation of cars." Also, look at those doors. There are a lot of unknowns here and we wouldn't be surprised to see this as a hybrid (poser) first.
4. 2018 GAC Trumpchi GE3
Battery 47 kWh / Range 200 miles (Europe) / Base Price TBA
The first Chinese brand to debut a car in the United States, the GE3 goes on sale in June. Its design is as is exciting as it looks, which is to say not very. But did we mention it doesn't require gasoline?
5. Smart Fortwo Electric Drive
Battery 55 kWh / Range 68 miles / Base Price $12,490 after incentives
This is the "Greenflash Edition" of the Smart Fortwo with "electric green" accents along the two-door, two-seater's black exterior. The electric motor produces 81 horsepower and it tops out at 78 mph. The low range limits it to short trips around the city.
6. The 2025 (???) Volkswagen I.D. Buzz Concept
Battery 111 kWh / Range 270 miles / Base Price $¯\()/¯
This was unveiled with much fanfare on Sunday and while there's doubt over whether the company will ever mass-produce it, its road-trip-worthy range of 270 miles is enough to get anybody's imagination going. So is a promised 0-60 time of 5 seconds. Finally, just watch this lifestyle video released to publicize the retro-future van; it offers slightly cringe-inducing scenes but also a better sense of the vehicle.
7. 2017 Mercedes B250e
Battery 28 kWh / Range 87 miles / Base Price $39,900
The 132kW electric motor in the B250e offers a top speed of 100 mph, but it takes nearly 8 seconds for it to get to 60 mph. The four-door electric vehicle is one of the higher-end at the show, with the luxury expected from Mercedes-Benz.
8. 2017 Volkswagen e-Golf
Battery 35.8 kWh / Range 126 miles / Base Price $28,995
The VW presser was one of the glummest of the media days ahead of the press show, as an executive tried to put a happy face on a 16 percent sales decline last year, in the wake of the VW emissions scandal. But this electric hatchback, which debuted at the L.A. Auto Show in November, has 100 kW electric engine that takes an hour to charge in a CCS station or 34 hours from a wall socket.
9. 2017 Ford Focus Electric
Battery 35 kWh / Range 100 miles / Base Price $29,120
Ford's five-seater is meant "for avoiding gas stations in style," a sentiment we can't agree with more. The 107 kW electric motor hits 143 horsepower. You can find this car near Ford's efforts at autonomy and other environmentally aware vehicles. It has in a studio-like area at the back of its massive area of the auto show. You should seek it out, though: Its design doesn't have the micro-car feel that others on this list might give off. Despite reports of this car being hard to get or Ford not putting it out front, it's worth what might be a hunt when compared to gas-guzzlers.
10. 2017 Nissan Leaf
Battery 30 kWh / Range 107 miles / Base Price $30,680
So, this year's Leaf is a lot like last year's Leaf with one crucial difference — a bigger battery that's standard on all versions this year. There are heated leather seats in the SL version, which presumably will wear on that bigger battery.
11. 2017 Hyundai Ioniq
Battery 28 kWh / Range 124 miles / Base Price $29,700
The Ioniq electric made its debut in April 2016 at the New York Auto Show, and has been making the rounds since, in L.A. in November (where we learned it would be used in a subscription service), and in Detroit in January. This is, of course, the fully electric model (there's also a plug-in hybrid and hybrid version). There's no U.S. price for this one just yet, but the Ioniq electric sold in the UK goes for about $27,900 after the pounds-to-dollars conversion. The Ioniq supposedly comes out this winter.
So, there you have it. At least eleven reasons not to buy a car that runs on gasoline. The bad news: Some cars are only available in specific states and there are fees to transfer it to another state involved. The good news? The well-known $7,500 federal tax credit will take a sizeable chunk off the cost of your car, and many automakers factor that in when releasing the prices. Those adjustments have been reflected above. In addition, some states offer tax credits on top of the federal credit. Our advice? Find a car you love and make it work.