Woman Who Cleaned Trump's Hollywood Star Just Started a Meme
In this alternative internet reality, any celebrity can be president.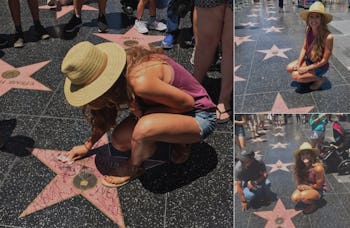 Makenna Greenwald / Twitter
A woman paused last week on her trip down the Hollywood Walk of Fame in Los Angeles to scrub some graffiti off U.S. President Donald Trump's star. She posed at the scene and tweeted out the photos, earning high profile retweets and inspiring a meme that has taken the internet by storm. This Independence Day, anyone worthy of a Hollywood Star can be YOUR president.
"Stopped to clean @realDonaldTrump Hollywood Star," tweeted Makenna Greenwald on June 28. "Nothing but respect for MY President. #RaisedRight."
Within days, Makenna's tweet had gone viral, particularly after it was circulated next to an image of Trump's star covered in stickers from L.A.'s Resist March, with slogans including "I Resist Racism" and "I Resist Extremism." A Pride flag lay next to the star and a woman crouched behind it, giving the camera two middle fingers.
Makenna earned retweets from Sean Hannity and other conservative pundits. She got a personal thank you from Eric Trump, who ended his tweet with #MakeAmericaGreatAgain and three American flag emojis.
By July 1, the battle had left the physical space of Trump's star and wandered to other parts of Hollywood Boulevard, as residents and visitors of L.A. declared various actors and fictional characters to be their president.
By July 4, the meme reached fever pitch. Many across the strange land of the internet were taken with the idea of imagining a different president on a day of national celebration. Those who couldn't get down to the Hollywood Walk of Fame or dig up old photos with Hollywood Stars invented other ways to get in on the fun.