Did the 'Bumfights' Guy Pull This 'Naked Trump' Statue Stunt?
The anti-Trump statues cropped up all across the United States. Whodunit?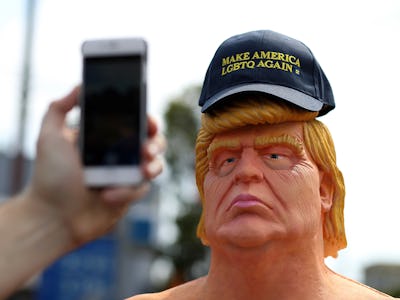 Getty Images / Justin Sullivan
On Thursday, five life-sized, caricatured, and naked Donald Trump statues materialized in New York, San Francisco, Seattle, Cleveland, and Los Angeles. It's an art project by a group of guerilla street artists collectively known as Indecline, and its political message is not very subtle: The project is called The Emperor Has No Balls.
These statues predictably started a social media frenzy, and, for a short time, the artist was unknown. Each statute was signed with the pseudonym "Ginger," in script, on its base. In addition, a plaque adorned each one: "The Emperor Has No Balls," the plaque read, with an attribution — Indecline. Internet users were quick to locate the street art collective's YouTube channel, which featured a video (included below) about the Trump statues.
Many people considered it lewd, even for a politician as provocative as Trump.
But the individual behind Indecline, the man who presumably orchestrated this national stunt, has an even more vulgar history.
A tour of Indecline's website shows that it's responsible for a handful of other aggressive, overtly political works. (The collective's store features prison shanks, spray paint, balaclavas, "Pig Mace," and riot gear.) Most often, the artworks are anticapitalist and antigovernment.
The artists tend to target McDonald's, Donald Trump, the police, and the United States government with their works, and have done so in both the U.S. and Mexico. Last year, they painted the largest illegal graffiti, which took up an entire abandoned airstrip in California:
Indecline is also responsible for a Black Lives Matter installation on the Hollywood Walk of Fame: Earlier this year, Indecline artists filled in empty Walk of Fame stars with black police shooting victims' names, including Eric Garner, Tamir Rice, Freddie Gray, and more.
The man behind Indecline, it turns out, is himself accustomed to infamy. His name is Ryan McPherson, and he's dedicated much of his life to filming controversial, inflammatory acts, many of which — like Emperor — go viral. McPherson started out his career of notoriety in the early 2000s with Bumfights, which, depending on who's answering, either highlights the plight of America's homeless or — more commonly — features homeless men beating the shit out of each other for a few bucks.
The stunts led to lawsuits, and eventually led to prison sentences in California for McPherson and his co-producers. McPherson sold his stake in Bumfights and "made millions."
Inverse has contacted McPherson for a comment but hasn't heard back yet. We will update if and when we do.
Perhaps McPherson, with Emperor, is once again trying to recapture the internet's sating eye. Or maybe he saw that proverbial light and decided to occupy himself with political artworks and guerilla activism. Unfortunately, anti-Trump internet activism has yet to have a noticeable effect — aside from a few cheap laughs. Trump, given his shall-we-say limited tech knowledge, might not even be aware that he's been so thoroughly trolled and humiliated.