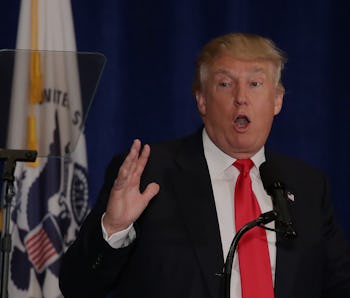 Culture
Silicon Valley Really Doesn't Want Donald Trump as President
Make Silicon Valley Great Again 2016 is off to a rocky start.
Getty Images / Mark Wilson
Donald Trump is the presumptive Republican nominee for president, and the tech world is not happy about it. More than 100 executives from Twitter, Medium, Instagram, Apple, and other tech companies around the world signed an open letter opposing Trump's campaign and outlining exactly why they thought the Donald would be an atrocious commander-in-chief.
"We stand against Donald Trump's divisive candidacy and want a candidate who embraces the ideals that built America's technology industry: freedom of expression, openness to newcomers, equality of opportunity, public investments in research and infrastructure, and respect for the rule of law," the executives write in the letter. "We embrace an optimistic vision for a more inclusive country, where American innovation continues to fuel opportunity, prosperity and leadership."
Executives from Twitter, Medium, and Instagram; public figures like former U.S. CTO Aneesh Chopra and Apple co-founder Steve Wozniak; and many others signed the letter. Several of its signers have liked, retweeted, or shared the post, making it a mini-viral hit in the tech community.
This wouldn't be the first time executives in the tech industry have united against Trump. Earlier this year reports surfaced of Apple's Tim Cook, Google's Larry Page, and other high-level tech and business executives attending the American Enterprise Institute's annual World Forum, where they allegedly discussed ways to stop Trump's candidacy.
Tesla founder Elon Musk later said that he didn't attend the event to discuss Trump — he was there to, as is his wont, discuss Mars — so there's a possibility that the original report was exaggerated. And regardless, not even clandestine meetings could halt the Trump Train — which clearly has the tech industry scared enough to unite and … well, write and publish an open letter on Medium. In its defense, it is pretty strongly worded.
Several key figures, including Cook, Page, and other high-level executives, did not sign the letter. (Shervin Pishevar, the Hyperloop One board chair who's being sued for all kinds of crazy stunts, on the other hand, did endorse the message.)
Still, with over 100 signatures, the message is clear: Silicon Valley does not want to see Trump become the next President of the United States.